Against Port Expansion in the Fraser Estuary BC
APE (Against Port Expansion in the Fraser Estuary BC) is a group of concerned citizens who recognize that plans for container terminal expansion on Roberts Bank (RBT2) will see the loss of globally-significant wetlands and habitat (classified as a Globally Significant Important Bird and Biodiversity Area - IBA) for migratory birds, shorebirds, waterfowl, salmon, herring, crabs and orca whales; degradation of the quality of life for thousands of Lower Mainland residents; and the industrialization of prime agricultural land.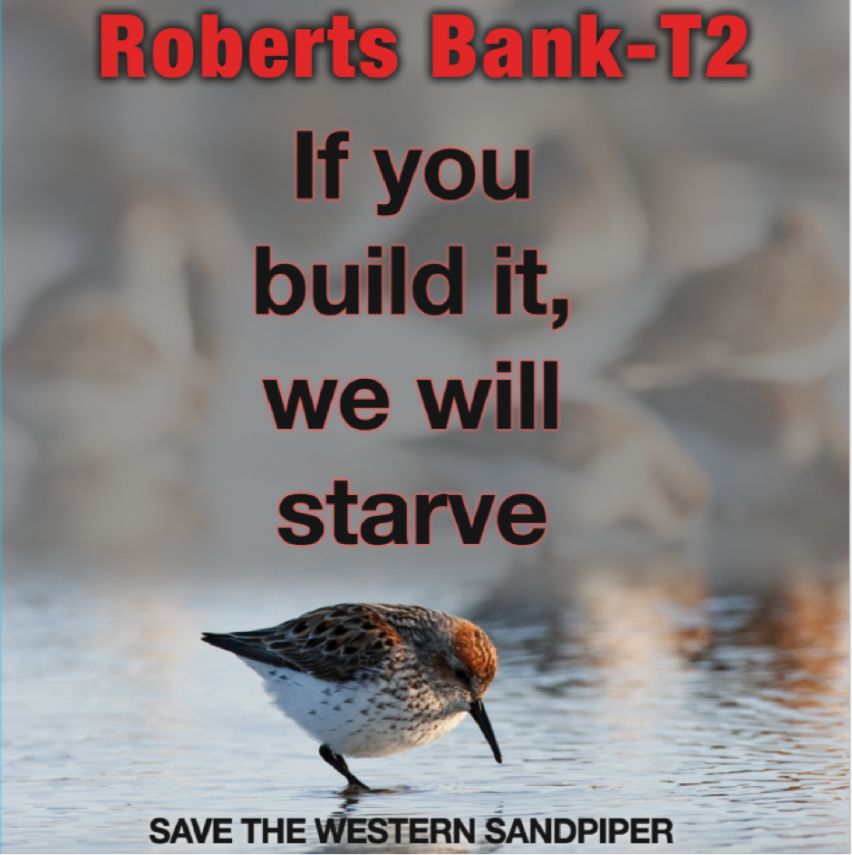 HERE IS THE CURRENT RBT2 STATUS:
MAY 2022 STILL NO DECISION - AFTER EIGHT YEARS !!
MAR. 27 2020 THE FEDERALLY-APPOINTED REVIEW PANEL PUBLISHED ITS REPORT IDENTIFIYING SIGNIFICANT ADVERSE ENVIRONMENTAL EFFECTS IN MANY AREAS SHOULD RBT2 BE BUILT.

AUG. 24 2020 THE FEDERAL ENVIRONMENT MINISTER PAUSED THE DECiSiON PROCESS AND ASKED THE PORT FOR MORE INFORMATION.
AUG. 28 2020 THE PORT SAYS IT WILL HAVE COMPLETED GATHERING THE ADDITIONAL INFORMATION PRIOR TO YEAR END
NOV. 5 2020 THE PORT SAYS IT WILL NOT PROVIDE THE INFORMATION UNTIL SUMMER 2021.
SEP 24 2021 PORT PROVIDED ITS RESPONSE
DEC 15 GOVERNMENT PROVIDED A DRAFT OF POTENTIAL CONDITIONS FOR APPROVAL AND OPENED FINAL ROUND OF PUBLIC COMMENT
MAR 15 2022 PUBLIC COMMENT PERIOD CLOSED WITH THOUSANDS OF OPPOSING SUBMISSIONS
APR 22 2022 PORT RESPONDED TO SOME OF THE OPPOSING SUBMISSIONS, BUT NOT ON THE KEY ISSUE, BIOFILM
SO MANY QUESTIONS:
WHAT IS THE PORT AFRAID OF AND

WHAT IS IT TRYING TO HIDE?

WHY DID THE PORT HIRE AN ENGINEER TO MANAGE INFRASTRUCTURE DELIVERY AND

GET CONTRACTS SIGNED FOR A T2 OPERATOR?
SO MANY QUESTIONS, NO ANSWERS FROM THE FEDERAL GOVERNMENT.
WE NEED YOUR HELP. NOW IS THE IDEAL TIME TO URGE THE FEDERAL GOVERNMENT TO REJECT ROBERTS BANK TERMINAL 2.
E-petition 2828 sponsored by Paul Manly MP for Nanaimo-Ladysmith called on the government to reject RBT2. It closed December 2 2020 with 1861 signatures.
https://petitions.ourcommons.ca/en/Petition/Details?Petition=e-2828
Those signing were all across Canada. Eight provinces and two territories all had signatories. It was certified and presented to the House of Commons on Dec. 9 2020. The govenrment responded January 26 2021, refusing to reject RBT2 at this time, saying the decsion will be based on science facts and evidence.
The govenrment already has the science, facts and evidence. Its own scientists say RBT2 will result in significant adverse environmental effects that cannot be mitigated. How much more does the government need to reject this project?
And so the saga continues, eight years and counting, wasting more taxpayer funds.
KEEP THE PRESSURE ON THE FEDERAL GOVENRMENT
TELL THEM YOU WILL NOT ACCEPT RBT2 BEING APPROVED
IF YOU MISSED SIGNING WE HAVE PUT UP ANOTHER PETITION.
Click Here to Sign the Petition
See what others are doing to stop RBT2:
1. Fraser Delta in the International spotlight. Birdlife Interantional has joined the fight to stop RBT2.
https://www.birdlife.org/worldwide/news/waterfowl-winter-refuge-fraser-river-delta-risks-being-lost-forever?utm_source=BirdLife+International+News+Notifications&utm_campaign=a1bb67f58b-Summary_news_notification&utm_medium=email&utm_term=0_4122f13b8a-a1bb67f58b-131704081&mc_cid=a1bb67f58b&mc_eid=0757e28fcf
2. In May 2022 The Garden City Conservation Society published a comprehenisive analysis of all that is wrong with the RBT2 project, under the title Stop RBT2 - To Enable Success, and sent it to the federal Environment Minister and the Cabinet
stoprbt2_enablesuccess_gccs_0.pdf
3. A video by Ranincoast Conservation
https://youtu.be/HkKLY3P2_ys
4. Natural Legacies versus Waste
https://gardencitylands.wordpress.com/2020/04/04/fraser-voices-urges-federal-government-to-reject-roberts-bank-port-expansion/
5. Fraser Voices
https://www.facebook.com/FraserVoices/posts/2525873930958632?__cft__[0]=AZUdM4gLQGuLAuiIVb_6PxF5BNrdBoz4KiElrrlqVoUBShwuJp6UHSY5mWAGz0etwKLQsE10_Ss-qK7aGDQemFBPCb8nyQsjtbRBGMWEMaqncH-9Dc-WYdwptkuZASF4OsN487dcEmp0wBKuk9JfpC8C0GMYxI1uj79xp-tiD_FXKA&__tn__=%2CO%2CP-R
6. Georgia Strait Alliance
https://georgiastrait.org/work/species-at-risk/proposed-terminal-2-deltaport-expansion-2/
Stop RBT2 - To Enable Success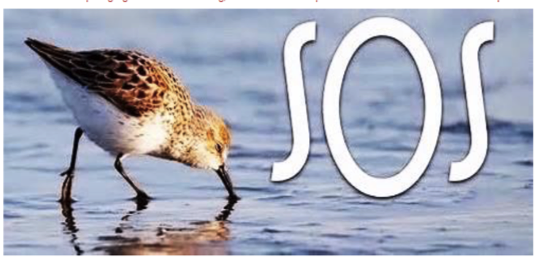 The Garden City Conservation Society has recently sent an excellent analysis of the Terminal 2 project to the federal Environment Minister and Cabinet. As a sequence of illustrated topics, it is clear and readable.
Read it here:
stoprbt2_enablesuccess_gccs.pdf
They suggest the project is "a train wreck on the verge of happening" and that it needs to be stopped to save the Roberts Bank ecosystem from further degradation.
The submission is organized into a number of topics and is the most comprehensive and fulsome analysis yet of the disastrous RBT2 project and why it must never be approved.

The War on Science – Its Not Just RBT2
Why is it that bureaucrats in Ottawa believe it is OK to hide science from the public view? Are they directed to do so by their political masters, or by the Prime Minister's office?
In the early part of 2022 government scientists submitted two commentaries on Roberts Bank Terminal 2 to their bosses in Ottawa. But these have never appeared anywhere in the public domain.
One was a commentary on the draft conditions for RBT2. The other was a commentary on the VFPA produced biofilm guidance manual. The scientists identified many errors and invalid conclusions in both documents.
On the draft conditions for approving RBT2 the scientists point out the many shortcomings. In particular they identified a major error, whereby the proposed conditions suggested biofilm re-creation on a major scale that the scientists have repeatedly proven couldn't possibly work on the scale required. In addition the scientists point out that once project approval is given should mitigation measures fail there is no means to stop the project and prevent large-scale environmental degradation. The draft conditions have also attracted a lot of negative comment on the RBT2 registry from a number of well-qualified respondents.
On the biofilm guidance manual, apparently developed by port staff and/or their contractors, government scientists identified the many flaws in the Port's understanding of biofilm. For example the manual fails to recognize it is the salinity trigger that causes the biofilm to produce large amounts of essential long-chain polyunsaturated fatty acids and only during the spring season, when large volumes of fresh water wash over the mudflats.
MP Richard Cannings raised this very issue of science muzzling on February 7 2022 in the House. Why is it still ongoing?
The MP for Delta has been asked to get copies of these two documents, but thus far her office has failed to get them from the powers that be in Ottawa.
This is not a new problem. In 2012 government scientists investigated the presence of a virus, which had been found in both farmed and wild salmon. Kristi Miller-Saunders, a federal biologist authored a study demonstrating that this virus was infecting both farmed and wild salmon. But as the UK Guardian Newspaper revealed in March 2022 successive federal governments, including the Trudeau government, kept the study hidden and ignored its recommendations. It took a ten-year battle with the federal government and a freedom of information request before the federal information commissioner ordered the study to be released.
Where is Canada's law and order and good government? Where is Canada's transparency and accountability if the federal government can choose to hide government scientists'' findings it doesn't like?

RBT2 - A Wall of Silence
Wondering when to expect a decision on Roberts Bank Terminal 2?
By now a decision on the RBT2 project should have been made. After eight years of studies, assessments, public hearings and comment periods a decision is overdue. The science, facts and evidence are compelling, RBT2 will result in significant adverse environmental effects that cannot be mitigated. There is no economic justification – RBT2 is not needed now and never will be.
There is no shortage of terminal capacity now, or for the future. Terminal capacity is being added in Vancouver and Prince Rupert, sufficient to handle Canada's trading needs for years to come. Container volumes in Vancouver area ports for Q1 2022 were 10 percent lower than the same period in 2021 and lower for the equivalent period in 2019, prior to the pandemic.
The federal government's decision pause has been lifted. The final round of public commentary – with thousands of opposing submissions – closed March 15.
But where is the decision? You may well ask. A wall of silence has descended on this project. The federal government appears to be in no hurry to make a decision.
However the Vancouver Fraser Port Authority (VFPA) has not given up. Despite the absence of a project approval they are working to identity a contractor to build a new landmass and marine structures, and a terminal operator to build, equip, and operate the terminal.
In Mid May VFPA is playing host to the World Ports Conference to be held in Vancouver, where they will again be promoting RBT2.
The VFPA lobby in Ottawa is also hard at work. There are numerous ads promoting RBT2 in the media - print, radio, television, electronic, webcasts, billboards. Several of these are aimed directly at the politicians with ads in two journals as well as a billboard near parliament hill – see the attached recent examples.
The Vancouver Fraser Port Authority is now adopting a new strategy and gearing up for a fight. It maintains many of the adverse environmental effects that will result from RBT2 are beyond its care and control (marine shipping, up stream Fraser River, road and rail traffic through the lower mainland and into the interior). They make that very clear in their recent submission to the Impact Assessment Agency Canada, by pinning the responsibility on governments.
If the decision does not go their way VFPA may be gearing up for court action – one federal government agency suing another?!!!
Equally concerning is that Transport Canada has come out in favour of RBT2, with the Department of Fisheries and Oceans also being somewhat supportive.
In brief this is the project status as of mid May:
VFPA responded to the last round of public comments on April 22 with part one of its commentary on the opposition. It provided a supplement to the part one submission on May 13. On its face the part one response contains little new and is rather a repeat of the assertions and myths that VFPA has been peddling for a long time.
The part two VFPA submission, coming soon, will be their response to the biofilm concerns.
VFPA might be able to address the issues concerning Southern Resident Killer Whales, salmon etc. VFPA does not have an answer to the biofilm issue and the salinity trigger, but continues to peddle its flawed science in the hope it can convince the decision makers. RBT2 lives or dies on the biofilm issue.
Since the 2020 Review Panel Report eight new science papers have been published in peer-reviewed journals supporting the Environment and Climate Change Canada (ECCC) scientists' concerns about the negative effects of RBT2 on the intertidal food web and the biofilm, a critical source for millions of migratory and other shorebirds as well as many other wildlife species.
Major organizations have come out opposing RBT2 on environmental grounds, including Birds Canada, Nature Canada, Raincoast Conservation, Western Hemisphere Shorebird Reserve Network, BC Nature, Audubon.
Global Container Terminals continues to push its Deltaport Berth 4 alternative and takes every opportunity to criticize VFPA and RBT2.
DP World has significant container terminal expansion in the works both in Vancouver and Prince Rupert.
Several key documents are missing from public view. ECCC scientists have written two commentaries, one criticizing the draft conditions and the other on the VFPA biofilm manual. These are hiding somewhere in Ottawa. Also missing - a "whole of government" response to RBT2.
VFPA continues to promulgate the myth that BC is out of container terminal capacity, despite assertions to the contrary by the terminal operators. There are government committees discussing supply chain congestion and trade logistics and it is clear RBT2 is in the frame of these discussions.
Canadian and foreign interests have invested in warehouse and logistics infrastructure, assuming that RBT2 would be approved. They want a return on their investment.
We need constant and ongoing pressure on the ECCC minister and on cabinet.
Write to:
Environment Minister ec.ministre-minister.ec@canada.ca
MP for Delta carla.qualtrough@parl.gc.ca
Transport Minister TC.ministeroftransport-ministredestransports.tc@tc.gc.ca
Fisheries Minister min@dfo-mpo.gc.ca

The Party is Over Time to Call it a Day
The Party's Over – It's Time to Call it a Day
The final round of public comment on the Vancouver Fraser Port Authority's (VFPA) Roberts Bank Terminal 2 (RBT2) project closed March 15 2022.
The party is over. After 13 years of submissions, reviews and public hearings It is time now for the federal government – Cabinet (Governor in Council) - to make a decision under the governing legislation CEAA 2012 Section 52. To paraphrase the legislation:
Section 52 subsection (2) - If the decision maker (Minister of Environment and Climate Change Canada ECCC) decides that RBT2 is likely to cause significant adverse environmental effects then it is must be referred to the Governor in Council (Cabinet) to determine whether those effects are justified in the circumstances.
The Governor in Council may then decide:
(a) that the significant adverse environmental effects that the designated project is likely to cause are justified in the circumstances; or
(b) that the significant adverse environmental effects that the designated project is likely to cause are not justified in the circumstances.
We know RBT2 is likely to cause significant adverse environmental effects – the Review Panel said so; government scientists have said so; many independent scientists and experts in wetlands and coastal ecology have said so,.
RBT2 cannot be justified in the circumstances. There are already announced alternatives that can deliver additional container terminal capacity when the market warrants it sufficient to meet Canada's trading needs for decades to come. These alternatives will do less environmental damage, will be much cheaper and provide more effective, sustainable terminal capacity.
The responsible ministry (ECCC) has stated many times over the decision will be made based on the science, evidence and the facts. All three of those already determine that RBT2 must be denied approval.
The science, facts and evidence are overwhelming:
ECCC scientists and other independent researchers in wetlands and coastal ecology have produced powerful additional evidence in at least five new studies published in international peer-reviewed scientific journals that further demonstrate how RBT2 will affect both biofilm quality and quantity over the entirety of Roberts Bank as well as threaten the entire species of Western Sandpiper (Calidris mauri) in a manner that cannot be mitigated.
Hundreds of other scientists and biologists have opposed RBT2 citing similar science and evidence.
Major national and international environmental organizations have weighed in opposing RBT2, including: Nature Canada, Birds Canada, Birdlife International, Western Hemisphere Shorebird Reserve Network, BC Nature, Audubon Society, BC Rivers Institute, Nature Vancouver, Raincoast Conservation, David Suzuki, Ecojustice, Boundary Bay Conservation Society, Garden City Conservation Society, Canadian Parks and Wilderness Society, citizen scientists.
University Professors from UBC, SFU, Western, UNBC, Physicians, Vancouver Coastal Health, The cities of Delta, Richmond and White Rock, The Salish Sea Institute, First Nations, US Indigenous groups, Members of Parliament, are all opposed to RBT2
Existing terminal operators are demonstrating how other terminal expansions already in the planning phase can meet expected trading needs.
There is more than enough science, evidence and facts to deny RBT2 approval.
But despite all that the VFPA is refusing to give up. On March 15, the day the final public comment period closed VFPA wrote to the Minister ECCC stating they will be responding to all the opposing submissions and providing further clarification in the weeks to come.
When is this going to end? When will VFPA finally accept the party is over and it is decision time?
Let's hope the Minister does the right thing and says no more submissions. But if he does accept further submissions then government agencies, scientists, environmental groups, indigenous groups, the public must all have opportunity to review and respond.
Which part of NO does the Port of Vancouver not understand?