Against Port Expansion in the Fraser Estuary BC
APE (Against Port Expansion in the Fraser Estuary BC) is a group of concerned citizens who recognize that plans for container terminal expansion on Roberts Bank (RBT2) will see the loss of globally-significant wetlands and habitat (classified as a Globally Significant Important Bird and Biodiversity Area - IBA) for migratory birds, shorebirds, waterfowl, salmon, herring, crabs and orca whales; degradation of the quality of life for thousands of Lower Mainland residents; and the industrialization of prime agricultural land.
On April 20 2023 the federal cabinet approved RBT2, effectively signing the death certificate for the Fraser Estuary.
Watch MP Elizabeth May present the petition to parliament that many of you signed. https://www.raincoast.org/2023/04/despite-green-light-from-cabinet-elizabeth-may-presents-petition-house-of-commons/
The RBT2 project was approved:
Over a mountain of opposition;
With political interference
Ignoring Environment Canada scientists' concerns
Ignoring significant wide ranging credible research and science, much of it published in peer-reviewed science journals, demonstrating the project's significant adverse environmental effects that cannot be mitigated.
Ignoring the facts and evidence.
Major environmental groups, scientists expert in their field, citizen scientists, the Cities of Delta, Richmond and White Rock, MPs, members of the public rose up and voiced their opposition to RBT2. As the final phase of the environmental assessment concluded that opposition grew and grew. The politicians ignored all of that and by approving the project signed the death certificate for what little remains of the natural habitat in the Fraser Estuary and the wildlife that relies on it.
WHEN IT WAS APPROVED THESE WERE THE CABINET MINISTERS KNOWN TO HAVE SUPPORTED RBT2: MESSRS WILKINSON, ALGHABRA, SAJJAN AND CHAMPAGNE
THESE CABINET MINISTERS WERE KNOWN TO OPPOSE RBT2: GUILBEAULT, QUALTROUGH, MURRAY
BUT THEN TRUDEAU SHUFFLED HIS CABINET.
THESE ARE THE MINISTERS STILL IN CABINET. EMAIL EACH OF THEM, ASK THEM TO EXPLAIN WHY THEY IGNORED SCIENCE FACTS AND EVIDENCE AND DEMAND THEY REVIST THEIR APPROVAL
JONATHAN WILKINSON:
minister.ministre@nrcan-rncan.gc.ca
STEVEN GUILBEAULT
ec.ministre-minister.ec@canada.ca;Steven.Guilbeault@parl.gc.ca

CARLA QUALTROUGH:
info@pch.gc.ca; Carla.Qualtrough@parl.gc.ca
FRANCOIS- PHILIPPE CHAMPAGNE: francois-philippe.champagne@parl.gc.ca
TELL THEM TO HONOUR THE AGREEMENTS CANADA HAS SIGNED TO PROTECT THE ENVIRONMENT (MOST RECENTLY AT THE UN BIODIVERSITY CONFERENCE). TELL THEM TO REVERSE THE RBT2 APPROVAL.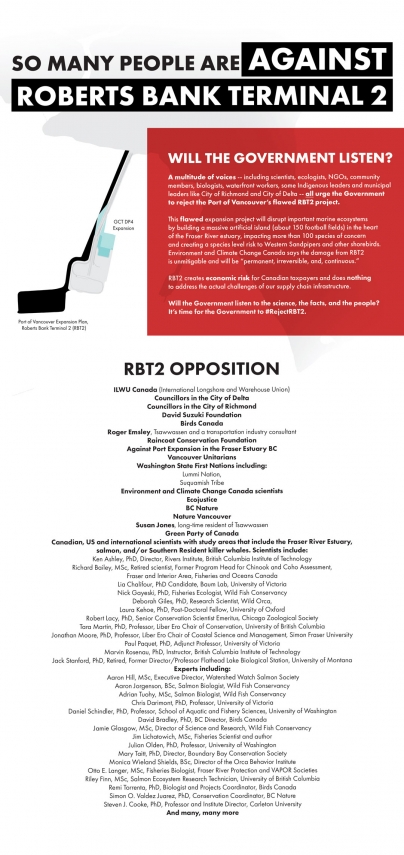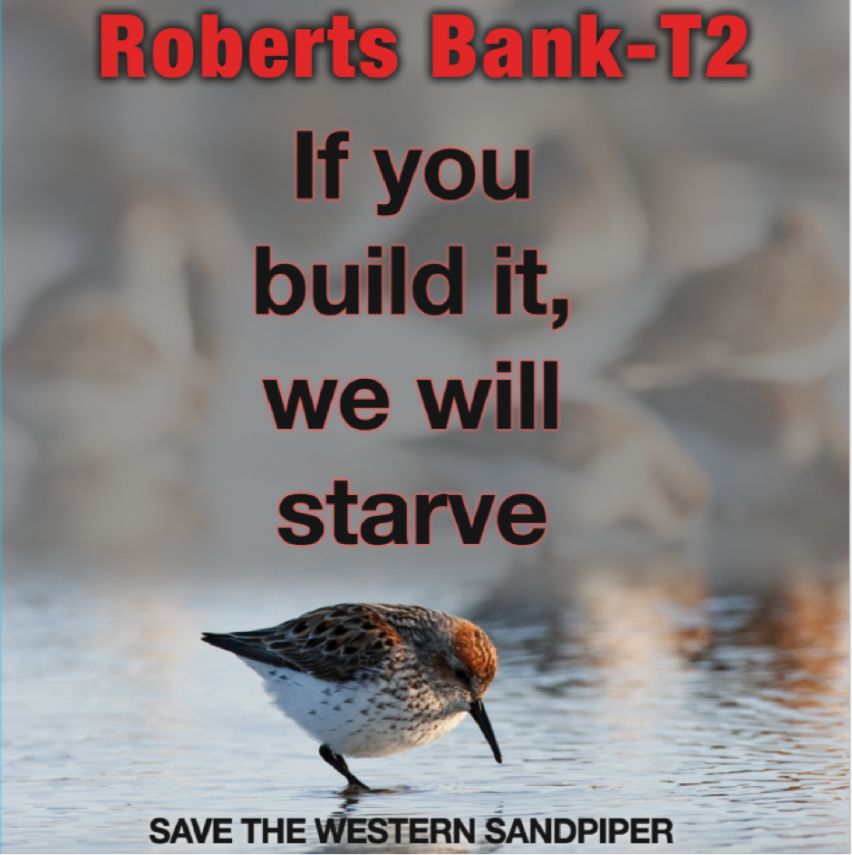 THIS IS THE TORTUOUS PATH THAT LED TO RBT2 APPROVAL
MARCH 2023 STILL NO DECISION - AFTER EIGHT YEARS !!
MAR. 27 2020 THE FEDERALLY-APPOINTED REVIEW PANEL PUBLISHED ITS REPORT IDENTIFIYING SIGNIFICANT ADVERSE ENVIRONMENTAL EFFECTS IN MANY AREAS SHOULD RBT2 BE BUILT.

AUG. 24 2020 THE FEDERAL ENVIRONMENT MINISTER PAUSED THE DECiSiON PROCESS AND ASKED THE PORT FOR MORE INFORMATION.

AUG. 28 2020 THE PORT SAYS IT WILL HAVE COMPLETED GATHERING THE ADDITIONAL INFORMATION PRIOR TO YEAR END

NOV. 5 2020 THE PORT SAYS IT WILL NOT PROVIDE THE INFORMATION UNTIL SUMMER 2021.

SEP 24 2021 PORT PROVIDED ITS RESPONSE

DEC 15 GOVERNMENT PROVIDED A DRAFT OF POTENTIAL CONDITIONS FOR APPROVAL AND OPENED FINAL ROUND OF PUBLIC COMMENT

MAR 15 2022 PUBLIC COMMENT PERIOD CLOSED WITH THOUSANDS OF OPPOSING SUBMISSIONS

APR 22 2022 PORT RESPONDED TO SOME OF THE OPPOSING SUBMISSIONS, BUT NOT ON THE KEY ISSUE, BIOFILM

JUNE 10 2022 PORT RESPONDED ON THE BIOFILM ISSUE. SAME OLD FLAWED SCIENCE, PROMOTING BIOFILM REPLACEMENT WHEN INTERNATIONALLY RECOGNIZED SCIENCE SAYS THIS IS IMPOSSIBLE ON THE SCALE NECESSARY TO REPLACE WHAT WILL BE LOST

SEPTEMBER 2022 - A WALL OF SILENCE REMAINS OVER OTTAWA ON RBT2

OCTOBER 26 2022 - ENVIRONMENT CANADA RESPONDS TO THE VFPA WITH A DETAILED ANALYSIS DEMONSTRATING YET AGAIN THAT RBT2 WILL RESULT IN SIGNIFICANT ADVERSE ENVIRONMENTAL EFFECTS THAT CANNOT BE MITIGATED. ECCC SCIENTISTS STATE:




"Given the importance of the Roberts Bank site for the Western Sandpiper, the nutritional requirements for fatty acids of migrating shorebirds, and the predicted effects of the Project on biofilm quantity and quality, ECCC continues to advise that the changes predicted as a result of the Project, as currently designed, would likely constitute an unmitigable species-level risk to Western Sandpipers, and shorebirds more generally".

January 23 2023 Ottawa decides it has all the information it needs to make a decision

Febuary 2023 - The RBT2 Decision is with the Federal Cabinet acting as Governor in Council

April 3 2023 Still waiting for a decision from Ottawa. Three cabinent ministers are known to support it. Amazing!!!

April 20 2023. The federal government approves terminal 2 stating


" I (Environment Minister) have determined that the Designated Project (RBT2) is likely to cause significant adverse environmental effectsreferred to in subsection 5(1) of the Canadian Environmental Assessment Act, 2012.

In accordance with paragraph 52(4)(a) of the Canadian Environmental Assessment Act, 2012, the Governor in Council (Federal Cabinet) decided that the significant adverse environmental effects referred to in subsection 5(1) that the Designated Project is likely to cause are justified in the circumstances.
THE FIGHT IS NOT OVER
THE FEDERAL GOVERNMENT IGNORED ITS OWN SCIENTISTS AND THEIR CONCERNS.
WE NEED YOUR HELP. EMAIL THE PRIME MINISTER AND DEMAND HE REVERSE THIS DECISION. pm@pm.gc.ca
The govenrment has the science, facts and evidence. Its own scientists say RBT2 will result in significant adverse environmental effects that cannot be mitigated. How much more does the government need to reject this project?
KEEP THE PRESSURE ON THE FEDERAL GOVERNMENT
TELL THEM YOU WILL NOT ACCEPT RBT2 BEING APPROVED.
WRITE TO MINISTER GUILBEAULT. SELECT COPY & PRINT THIS
Attention Minister Steven Guilbeault: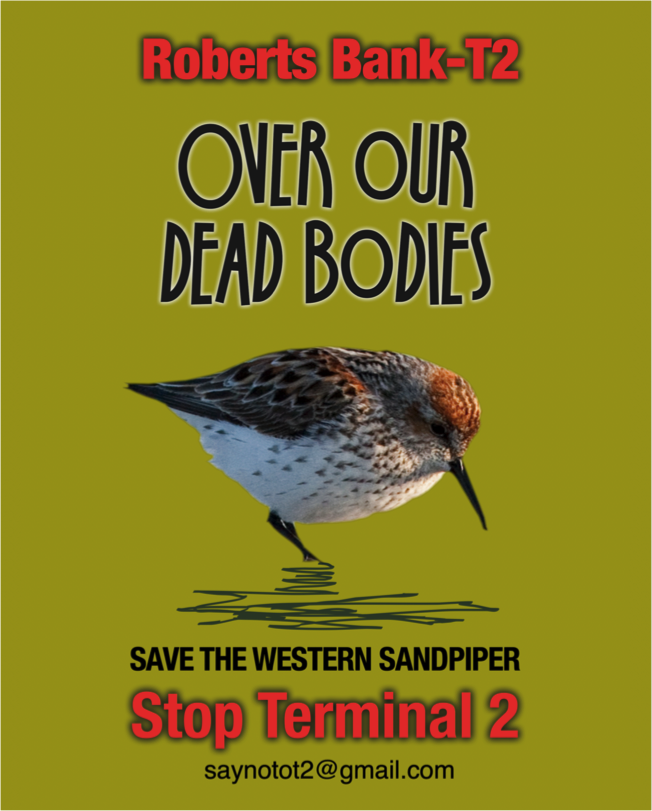 Roberts Bank Terminal 2 (RBT2) is environmentally unsustainable. Environment and Climate Change Canada scientists have consistently characterized the negative environmental impacts of the RBT2 project as permanent, irreversible and continuous, disrupting and eliminating quality fatty acid production from diatoms in biofilm across Roberts Bank by dampening and reducing salinity. These particular fatty acids are absolutely required by Western Sandpipers and disrupting their production may also have negative implications for salmon and crab production, as well as eulachon a major part of Indigenous heritage. Many international scientists agree, as do Birds Canada, Western Hemisphere Shorebird Reserve Network, BC Nature, Nature Canada and others.
I am opposed to RBT2 and petition you to deny approval for this project.
Signed________________________Email____________________________________
Name_____________________________________Postal Code__________________
AND MAIL TO
Minister Steven Guilbeault POST FREE
House of Commons
Ottawa, Ontario, K1A0A6
See what others are doing to stop RBT2:
1. Fraser Delta in the International spotlight. Birdlife Interantional has joined the fight to stop RBT2.
https://www.birdlife.org/worldwide/news/waterfowl-winter-refuge-fraser-river-delta-risks-being-lost-forever?utm_source=BirdLife+International+News+Notifications&utm_campaign=a1bb67f58b-Summary_news_notification&utm_medium=email&utm_term=0_4122f13b8a-a1bb67f58b-131704081&mc_cid=a1bb67f58b&mc_eid=0757e28fcf
2. In May 2022 The Garden City Conservation Society published a comprehenisive analysis of all that is wrong with the RBT2 project, under the title Stop RBT2 - To Enable Success, and sent it to the federal Environment Minister and the Cabinet
stoprbt2_enablesuccess_gccs_0.pdf
3. A video by Ranincoast Conservation
https://youtu.be/HkKLY3P2_ys
4. Natural Legacies versus Waste
https://gardencitylands.wordpress.com/2020/04/04/fraser-voices-urges-federal-government-to-reject-roberts-bank-port-expansion/
5. Fraser Voices
https://www.facebook.com/FraserVoices/posts/2525873930958632?__cft__[0]=AZUdM4gLQGuLAuiIVb_6PxF5BNrdBoz4KiElrrlqVoUBShwuJp6UHSY5mWAGz0etwKLQsE10_Ss-qK7aGDQemFBPCb8nyQsjtbRBGMWEMaqncH-9Dc-WYdwptkuZASF4OsN487dcEmp0wBKuk9JfpC8C0GMYxI1uj79xp-tiD_FXKA&__tn__=%2CO%2CP-R
6. Georgia Strait Alliance
https://georgiastrait.org/work/species-at-risk/proposed-terminal-2-deltaport-expansion-2/
Is the Federal Government serious about implementing the Roberts Bank Terminal 2 Conditions for Approval
Is the Federal Government serious about implementing the Roberts Bank
Terminal 2 Conditions for Approval
By Roger Emsley Executive Director Against Port Expansion Community Group
August 31 2023
The July 11 article in Business in Vancouver https://biv.com/article/2023/07/does-port-vancouvers-35-billion-terminal-2-have-plankton-problem identifies a meaningful and important condition of approval that the Vancouver Fraser Port Authority may find difficult to meet in its quest to build Roberts Bank Terminal 2 (RBT2). However, the big question remains: is the Federal Government serious about implementing the Roberts Bank Terminal 2 Conditions for Approval? Not so much, it seems, from the latest two postings on the Impact Assessment Agency's public website.
https://iaac-aeic.gc.ca/050/evaluations/document/152826
Of all the 370 conditions of approval there is one that could prevent RBT2 being built. Condition 10.4 requires the Impact Assessment Agency of Canada to establish an independent scientific body whose role is to monitor potential adverse environmental effects on biofilm resulting from salinity changes caused by the RBT2 project. If baseline thresholds are exceeded during monitoring for at least 36 months after Terminal 2's east basin containment dyke is built, three mitigation options kick in: biofilm creation, infrastructure redesign or infrastructure removal.
But what exactly is an independent scientific body? To be truly independent Canadians expect this expert body to be independent of both the Port of Vancouver and of the federal government. However if Canadians are expecting a truly independent scientific body that is not going to happen.
It turns out that the federal government's Chief Science Advisor will lead the independent body. How arms length is the Chief Scientific Advisor from the RBT2 issue? Not at all. That position reports to the Minister of Innovation, Science and Industry, François-Philippe Champagne. He is one of the ministers in Cabinet who supported RBT2. So not independent!
If the Chief Scientific Advisor and the team created to carry out the work find the project has compromised the biofilm, such that it exceeds the baseline thresholds, what then? Which of the three mitigation options will kick in? Will the Minister to whom the advisor reports opt for redesign or infrastructure removal given he supported the RBT2 approval? Unlikely.
Although biofilm creation will most likely be the chosen option, both government scientists and truly independent experts in wetlands and wetlands technology agree that there is no area large enough to compensate for the quality and quantity of biofilm in the Fraser River Estuary and Delta that would be destroyed by RBT2. Further, any biofilm creation program will undoubtedly be doomed as no one has ever re-established quality functioning biofilm.
If the independent scientific body were truly independent, rather than reporting to one of the key ministers who supports RBT2, this 10.4 condition for approval would have posed a meaningful trigger as to whether RBT2 is built. But as it is now the Port of Vancouver will look for a work around, trying in vain to recreate the biofilm that will have been lost such that the project can continue.
Ultimately, RBT2 will upset the natural chemistry over Roberts Bank and the quality of the intertidal biofilm will be inexorably wrecked. This will have devastating consequences resulting in a cascading failure of the estuarine ecosystem, up to and including commercial crab and salmon species, southern resident killer whales as well as migratory and other shorebirds. This catastrophe has all along been the major concern for government scientists as well as many independent scientists expert in their field.
There is one final irony in the appointment of the Chief Science Advisor to head up the independent scientific body. The mandate for this role includes "providing advice on creating process to ensure that scientific analyses are considered when the Government makes decisions". Yet the government ignored its own scientists when it approved RBT2!
If the federal government is serious about environmental protection and if its conditions for RBT2 approval are to have any meaning at all, then this independent scientific body must be truly independent - not reporting to one of the RBT2 supporters in government.
-30-

Why BC Must Say No To RBT2
The federal cabinet's approval of Roberts Bank Terminal 2 (RBT2) is not the end of the story. The provincial government has still to give its approval and there are many justifiable reasons for them to say no to RBT2.
First off the BC government should be asking why did the federal cabinet give its approval. Cabinet discussions in Canada – unlike many democracies - are kept secret so we will perhaps never know what caused the cabinet to ignore its own government scientists and approve a project whose significant adverse environmental effects will result in severe degradation of the last remaining bank largely unaltered by human intervention and hugely productive.
Leaked information from the cabinet discussions indicate Ministers Guilbeault, Murray and Qualtrough (also MP for Delta where the devastation is to take place) opposed RBT2. Amazingly Wilkinson – who was previously environment minister -supported RBT2, as did Ministers Champagne, Sajjan and Alghabra.
But on the assumption that only the Port of Vancouver can solve Canada's supply chain problem - dubious though that is - there are three fundamental questions that the BC government should be asking prior to making any decision:
Why did the federal cabinet ignore its own scientists whose science, published in peer-reviewed science journals and supported by experts independent of the Port and government indicates RBT2 will have devastating consequences for the estuary's intertidal food-web critical for the wildlife and biodiversity that is the essence of the ecosystem. These scientists all maintain the same concerns, predicting RBT2 will destroy the productivity of the bank by removing fatty acid rich intertidal biofilm resulting in a cascading failure of the estuarine ecosystem, up to and including commercial crab and salmon species plus migratory shorebirds.
Why is it better to build a greenfield container terminal (Roberts Bank Terminal 2) at a cost likely to exceed $6 billion, when a Canadian company is proposing an alternative to add capacity to an existing terminal (Deltaport Berth 4) in the same location, in the same timeline, providing similar expansion capacity at less than half the cost and with much less environmental degradation? Added to that why bar existing BC terminal operators from bidding on RBT2, thereby letting in foreign entities perhaps with Chinese backing to build and operate it?
Why build any more container terminal capacity in Vancouver at all, where the marine, road, rail and logistics infrastructure is already congested, and when an existing terminal operator in Prince Rupert wants to add even more capacity at much less cost and with no environmental effects, which in addition will reduce vessel transit by two days and provide much needed employment in an area that needs it?
The opposition to RBT2 is immense and growing:
Two major unions (ILWU and BCGEU) along with 15 major environmental groups (at their Crab Park press conference June 14) in a united front are calling on the BC Government to withhold the certificate for RBT2 under the Environmental Assessment Act.
The Union of BC Indian Chiefs – in their open letter to Federal and Provincial Environment Ministers are calling for an immediate pause of RBT2 development.
There are two legal actions (Ecojustice and Lummi Nation) both challenging the RBT2 approval.
That opposition is not going away, nor are government and other scientists that oppose RBT2.
So let's get the BC Government and the MP for Delta to give us answers.
Email Honourable David Eby, Premier premier@gov.bc.ca
and MP Carla Qualtrough carla.qualtrough@parl.gc.ca
Please copy saynotot2@gmail.com

Why did First Nations endorse RBT2 yet the Union of BC Indian Chiefs Oppose It
When First Nations endorse and support industrial projects that are damaging to our environment and negatively impact all those living nearby or who are otherwise effected, then all Canadians and those calling Canada home have a right to know why First Nation supported these projects.
Such is the case with the environmentally damaging and uneconomic Roberts Bank Terminal 2 project in Delta BC. Why did a number of First Nations endorse and support this project, signing beneficial participation agreements with the project's initiator, The Vancouver Fraser Port Authority? Did this support influence the federal government when they subsequently approved the project, even while recognizing that RBT2 is likely to cause significant adverse environmental effects?
With The Union of BC Indian Chiefs subsequently publishing a letter on July 12 opposing the Roberts Bank Terminal 2 (RBT2) Project, the question needs to be asked: did the many First Nations that have signed participation agreements with the Vancouver Fraser Port Authority and supported the Roberts Bank Terminal 2 Project realize the significant adverse environmental effects that will result, especially to biofilm, which cannot be mitigated?
Environment and Climate Change Canada (ECCC) scientists were never allowed the opportunity to explain to First Nations the importance of biofilm and the salinity trigger that is so important to wildlife on Roberts Bank. The Port of Vancouver held workshops with First Nations, to which Environment and Climate Change Canada were excluded, to sell their version of biofilm science - and it was false. These workshops skewed the science on biofilm. The Port could not and never will accept the salinity trigger as the driver of the richness in the diatoms in biofilm that is critical to all wildlife that relies on Roberts Bank. To do so would undermine their case that the RBT2 man made Island will not negatively affect the biofilm that migratory and other shorebirds rely on and is the underpinning of the intertidal food web.
It appears the workshops' prime purpose was to sell the Port's skewed science on biofilm. And it is the science on biofilm and it's influence on the intertidal foodweb that links the concerns of all the groups fighting to stop RBT2, whether it is because of the Orcas, the salmon, the crabs, the migratory and other shorebirds or anything else. It is also worth noting that one of the concerns of the International Longshore & Warehouse Union (ILWU) is that they do not want to be working at a container terminal that they now believe to have negative environmental consequences.
The science surrounding biofilm is relatively new. (See attached paper PREDICTED EFFECTS OF THE ROBERTS BANK TERMINAL 2 (RBT2) DEVELOPMENT ON WESTERN SANDPIPERS)
The traditional view had been that the birds were feeding on a variety of organisms in the wetland mud flat on Roberts Bank. But then international and Canadian experts in wetlands and wetland ecology realized that the birds were vacuuming up the rich substances in the mud, that being the unique biofilm found in certain areas of the Roberts Bank mudflats. This was especially true with Western Sandpipers who with their specialized tongues fringed with spines and a mucous coating ingest the biofilm. That led to understanding as to why the biofilm became rich just at the time the birds arrived on their northward migration along with the spring freshet. The salinity trigger, alternating salt and fresh water flowing over the mudflats with each tide, shocks the diatoms into producing poly unsaturated fatty acids rich in omega 3 and provides the birds with the fuel they need to build strength for their journey to their arctic breeding grounds. Equally important it is that same richness in the biofilm that supports the salmon, the crabs, the orcas, in fact all wildlife that rely on Roberts Bank.
Leading that research are scientists like Bob Elner, Mark Drever and several others with their research published in peer reviewed science journals. That understanding continues with studies ongoing including in universities in the US and Canada. It is worth noting that the science the Port relies on has never been peer reviewed. Furthermore international experts such as Professors Baird and Beninger have shown that the Port's science is flawed.
Would First Nations have been so willing to sign these participation agreements if they had realized the importance of biofilm? Would they have accepted the Port's false notion that biofilm can be recreated to replace that which will be lost as a result of RBT2, if they had heard the evidence from ECCC scientists and others that it is impossible to recreate biofilm on that scale and nowhere else in the world has it ever been done?
Building Roberts Bank Terminal 2 means:
Crab populations will decline,
Salmon stocks will continue to fall,
Migratory shorebirds will no longer have access to rich biofilm, not be as healthy when they reach the breeding grounds and will possibly decline further to the point of species extinction,
The three Orca pods will continue to decline in numbers,
All because the federal government ignored the ECCC documented and published science, facts and evidence (supported by experts independent of the Vancouver Fraser Port Authority), that the impact of RBT2 on wildlife will be immediate, continuous, permanent, irreversible and cannot be mitigated.
Certainly no First Nation wishes to see this happen to Roberts Bank recognized as:
A BC Wildlife Management Area and providing critical wintering grounds for the highest number of waterfowl and shorebirds found anywhere in Canada.
A Key Biodiversity Area
An Important Bird Area in Danger by Birdlife International
A Western Hemisphere Shorebird Reserve Network Site of Hemispheric Importance.
Perhaps now, with the Union of BC Indian Chiefs opposing RBT2, the provincial government will do what the federal government failed to do:
Review the science facts and evidence
Realize the significant adverse environmental effects that cannot be mitigated
Understand that BC has in excess of 2 million spare container capacity sufficient to last until the 2030s
Recognize there are other less environmentally damaging port expansion projects in Prince Rupert and Vancouver that can deliver more container terminal capacity in the 2030s when needed.
Realize that RBT2 cannot solve supply chain congestion because rail routes through the Fraser Canyon are at capacity
Refuse to approve RBT2
PREDICTED_EFFECTS_OF_THE_ROBERTS_BANK_TERMINAL_2_(RBT2)_DEVELOPMENT_ON_WESTERN_SANDPIPERS.pdf

It Aint Over Till Its Over
Wednesday June 14 Crab Park Vancouver
Roberts Bank Terminal 2 opposition demands answers from governments on expansion: Environmentalists, communities, and unions stand together