Against Port Expansion in the Fraser Estuary BC
APE (Against Port Expansion in the Fraser Estuary BC) is a group of concerned citizens who recognize that plans for container terminal expansion on Roberts Bank (RBT2) will see the loss of globally-significant wetlands and habitat (classified as a Globally Significant Important Bird and Biodiversity Area - IBA) for migratory birds, shorebirds, waterfowl, salmon, herring, crabs and orca whales; degradation of the quality of life for thousands of Lower Mainland residents; and the industrialization of prime agricultural land.
RBT2 Terms of Reference - said to be unlawful
A new submission today, put up on the Roberts Bank Terminal 2 (RBT2) Canadian Environmental Aassessment Agency (CEAA) registry, underlines what many of us have said since the beginning of this project.
Simply put it was and is unlawful for the Minister of Environment to have limited the scope of the assessment and thereby excluded marine shipping from the Panel-led RBT2 environmental assessment. This was of course done at the behest of the Vancouver Fraser Port Authority (VFPA) who wanted the terms of reference for the Panel limited such that the assessment was to include only the areas "under the care and control of VFPA". Not only did this therefore exclude marine impacts - especially those related to the endangered Southern Resident Killer Whales - but it also excluded community impacts from truck and rail traffic, as well as air, noise and light pollution beyond the port footprint.
Lawyers working on behalf of the T'Sou-ke Nation have now put in a submission, just posted to the CEAA registry (#1334), that basically says the action taken by the Minister of Environment, in limiting the terms of reference, was unlawful.

Two paragraphs in the submission sum it up:
"The effect of the unlawful exclusion is even larger in this case. Project-related marine shipping activities are likely to cause significant adverse environmental effects on southern resident killer whales in this EA as well, and there are no proposed measures to mitigate such effects. However, due to the unlawful exclusion, the Minister will not be required to consider and make that conclusion under s. 52(1) of CEAA 2012 (or to refer the Project to the Governor in Council pursuant to s. 52(2)). The net effect is that the Governor in Council will not be required to consider whether the significant adverse environmental effects that Project-related marine shipping activities are likely to visit upon southern resident killer whales can be justified in the circumstances."
And:
"All of these considerations unequivocally establish that marine shipping is inextricably and fundamentally important to the Project. Indeed, it should go without saying that a marine terminal has no purpose outside of the context of facilitating marine shipping. Especially in light of the direction provided by the Court in Tsleil-Waututh, the inescapable legal and factual conclusion is that marine shipping is "incidental to" the marine terminal and therefore forms an integral part of the designated project to be assessed."
So the Minister of Environment and the Panel have been put on notice. Either change the terms of reference to include marine shipping as part of the designated project (RBT2), or:
GO AHEAD, MAKE MY DAY. SEE YOU IN COURT.
Doesn't get much clearer than that.

No Economic Reasons for Roberts Bank Container Terminal 2 (RBT2)
No Economic Reasons for Roberts Bank Container Terminal 2 (RBT2)
September, 2018
There is no economic justification for the Roberts Bank Terminal 2 Project (RBT2) which will destroy globally-significant Fraser River estuary habitats that support migrating salmon, resident orcas and millions of migratory birds at Canada's crucial stopover of the Pacific Flyway.
The Vancouver Fraser Port Authority (VFPA), known as the Port of Vancouver, is strongly lobbying the Government of Canada to let them dredge and fill 445 acres of waterlot in the estuary for an island and expanded causeway to double container capacity with 3 new berths. The stated reasons and purpose of Terminal 2 are not supported with evidence of accurate forecasts, capacity and demand.
Currently, a federal Review Panel is examining the Environmental Impact Statement (EIS) for the Project. The economic information in the EIS is incorrect and misleading as VFPA business forecasts are not being realized and B.C. ports are already expanding capacity to handle container traffic demand.
The container business is reported in TEUS, "twenty-foot equivalent units", which means each unit is equivalent to one twenty-foot container.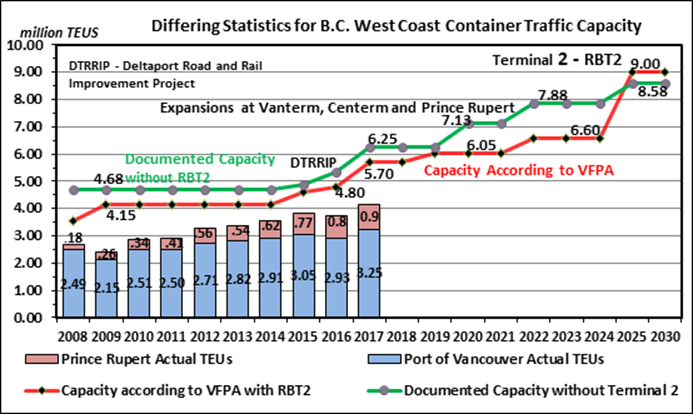 Unfortunately skewed statistics are being presented to the federal government in the EIS and in a 2017 Transport Canada Report. They are ignoring a report from three transportation experts advising:
"…policy makers develop container capacity in Prince Rupert before making investments in Vancouver"…and further that: "…a systematic approach be taken to achieve an understanding of port capacity before a conclusion is reached that a particular port must necessarily be larger."
In 2016, the Port of Vancouver secretly submitted an information brief on the RBT2 Project to Canada's Members of Parliament in an attempt to bypass due process,"Welcome to our first newsletter, written exclusively for a government audience."
http://www.portvancouver.com/wp-content/uploads/2016/10/2016-09-28-Briefing-Note-RBT2-Facts.pdf?utm_medium=email&utm_campaign=Government%20newsletter%201&utm_content=Government%20newsletter%201+CID_e2d26a81e33a994c50a06e8f2ee5a58f&utm_source=Email%20marketing%20software&utm_term=Read%20our%20briefing%20note
Documented statistics and information can be found in a submission to the Review Panel by the Boundary Bay Conservation Committee.
https://www.ceaa-acee.gc.ca/050/documents/p80054/125387E.pdf

New Video - Western Sandpipers Under Threat
One of the wildlife casualties, if Roberts Bank Terminal 2 (RBT2) were to be built, is likely to be the Western Sandpiper, so we have banded together with the Citizens Against Port Expansion Group (www.noterminal2.ca), and a number of others to produce a new video to raise the profile of the plight of the sandpipers.
Here is the video:
https://www.youtube.com/watch?v=8IrQXoGoGjM
The Western Sandpiper could become collateral damage if Vancouver Fraser Port Authority (VFPA) receives permission to construct a new second container terminal at Roberts Bank in Delta (RBT2). A key issue is BIOFILM, a slimy goop that Western Sandpipers feed on. Roberts Bank is a major stop on the Pacific Flyway for the migrating sandpipers on their journey to the arctic where they breed each year.
Roberts Bank, with its:
Bird Life International designation as a Global Important Bird and Biodiversity Area.
Western Hemisphere Shorebird Reserve Network designation as a site of Hemispheric Importance (only eight such sites exist in the whole of the Americas).
BC Government designation as a Wildlife Management Area - "providing crucial wintering grounds for the highest number of waterfowl and shorebirds anywhere in Canada".
Worldwide recognition as a site of natural abundance and biodiversity, one of the most significant such areas in the Americas and worldwide
- is under threat from further port expansion. Studies have shown that Roberts Bank's unique biofilm will be significantly degraded by the construction and operation of RBT2, putting the millions of shorebirds and other wildlife species that rely on this rich ecosystem at risk. For sandpipers the results would be devastating.
No biofilm equals no food for the birds and no future.
Vancouver Fraser Port Authority and its consutants disagree. Its consultants suggest that the negative impacts to the biofilm can be mitigated. Not true. Environment and Climate Change Canada (ECCC) scientists have stated major concerns with the RBT2 development, saying that "… the impacts on Biofilm will be permanent, irreversible and continuous". Many other groups also share The ECCC viewpoint.
The negaitve impacts go well beyond the Western Sandpipers. Millions of other shorebirds, the Orcas, salmon, herring, crabs, eulachon, several species at risk and other wildife will also be impacted.
There is simply to much risk. The precautionary principle must apply. RBT2 must be abandoned.

Capacity Crunch in Vancouver - No Way!
Is the West Coast Canada facing a container terminal capacity crunch by 2025?
Not at all.
The West Coast Canada will have more container capacity by 2025 than it has today.
Mr Silvester continues to mislead, ramping up the rhetoric, claiming: "…..
that at a forecast growth rate of four per cent per year, additional capacity will be required on the West Coast by 2025.
" Why, because he is fixated on building a second container terminal on Roberts Bank in Delta BC (RBT2).
Don't buy it, simply look at the numbers.
Significant expansions at Vancouver Fraser Port Authority (VFPA) container terminals have been announced, some of which are in progress and others due to commence soon. Deltaport is almost done adding 600,000 TEUs, In Vancouver's inner harbour Centerm has just announced a two thirds increase in capacity, and Vanterm is also going to increase its capacity. Equally the Prince Rupert container terminal is expanding and has recently announced even further expansions on top of those that it made in 2017.
All of this additional capacity is to come online before 2025.
That is not all. There is further expansion potential at the two Vancouver inner harbour terminals - 1 million TEUs or more. And at Prince Rupert there is another 3 - 4 million TEU expansion potential.
Using actual VFPA statistics the picture is clear. VFPA will NOT have used up all the additional capacity that is planned for its container terminals. Therefore overall the VFPA terminals will have more spare capacity than they do today.
Looking at the West Coast as a whole (therefore including Prince Rupert) by 2025, and using a four percent growth rate, the west coast container terminals will have used up 60 percent or less of the additional capacity that is coming on stream.
Using a more realistic long term growth rate of 3 percent VFPA will have used up 70 percent or less of the additional capacity coming on stream. And for the West Coast as a whole 56 percent or less of the additional capacity will have been used up.
Then there is the issue of US containers. VFPA
handles significant volumes of US container traffic, potentially upwards of 800,000 TEUs per year. Handling US containers adds nothing to the Canadian economy. In addition US Ports, especially the Northwest Seaport Alliance, are planning to take back significant volumes of that US traffic - away from VFPA.
So to say that the West Coast will run out of terminal capacity by 2025 is simply not true.
This smoke and mirrors game is being played so that VFPA can add a second terminal on Roberts Bank (RBT2) which the statistics show is not needed. Looking to the future, if VFPA were to gain approval to proceed with RBT2 they would be building a second container terminal whose capacity would be close to the two million US containers that West Coast Canada might be handling by 2025. And this in an area that is the number one Important Bird Area in the Americas, whose ecosystem would be severely damaged were RBT2 to be built. Are we really prepared to damage an ecosystem rich in biodiversity to handle US containers that add little or nothing to the Canadian economy.
It is clear - all the projections indicate that West Coast Canada has sufficient container terminal capacity to satisfy Canada's trading needs for years to come.
Canada does not need RBT2 to satisfy its trading needs. The Fraser River Estuary and the wildlife species that rely on it do not need the additional negative environmental impacts. The current terminal operators do not want RBT2 to be built.