Against Port Expansion in the Fraser Estuary BC
APE (Against Port Expansion in the Fraser Estuary BC) is a group of concerned citizens who recognize that plans for container terminal expansion on Roberts Bank (RBT2) will see the loss of globally-significant wetlands and habitat (classified as a Globally Significant Important Bird and Biodiversity Area - IBA) for migratory birds, shorebirds, waterfowl, salmon, herring, crabs and orca whales; degradation of the quality of life for thousands of Lower Mainland residents; and the industrialization of prime agricultural land.
SIGN THIS PETITION
https://petitions.ourcommons.ca/en/Petition/Sign/e-4356
EMAIL KEY CABINET MEMBERS
JONATHAN WILKINSON minister.ministre@nrcan-rncan.gc.ca;Jonathan.Wilkinson@parl.gc.ca
OMAR ALGHABRA TC.MinisterofTransport-MinistredesTransports.TC@tc.gc.ca;omar.alghabra@parl.gc.ca
STEVEN GUILBEAULT ec.ministre-minister.ec@canada.ca;Steven.Guilbeault@parl.gc.ca
CARLA QUALTROUGH EDSC.EDMIPH-EWDDI.ESDC@hrsdc-rhdcc.gc.ca;Carla.Qualtrough@parl.gc.ca
JOYCE MURRAY DFO.Minister-Ministre.MPO@dfo-mpo.gc.ca;joyce.murray@parl.gc.ca
Some of these cabinet members are know to oppose RBT2. But some are known to support it.
TELL THEM TO HONOUR THE AGREEMENTS CANADA HAS SIGNED TO PROTECT THE ENVIRONMENT (MOST RECENTLY AT THE UN BIODIVERSITY CONFERENCE). TELL THEM TO OPPOSE RBT2.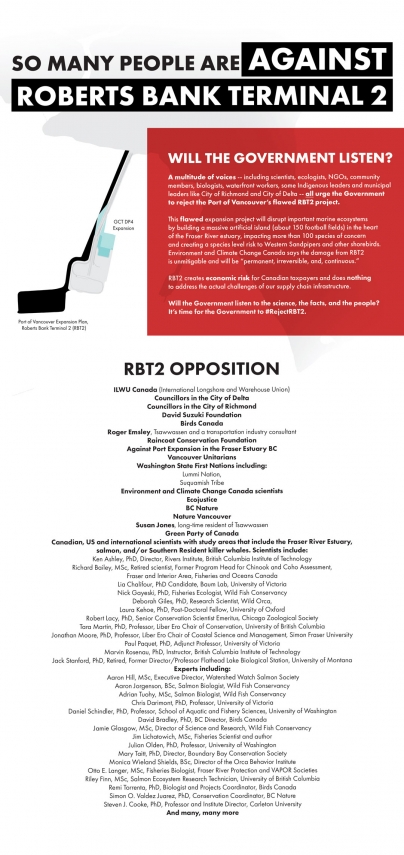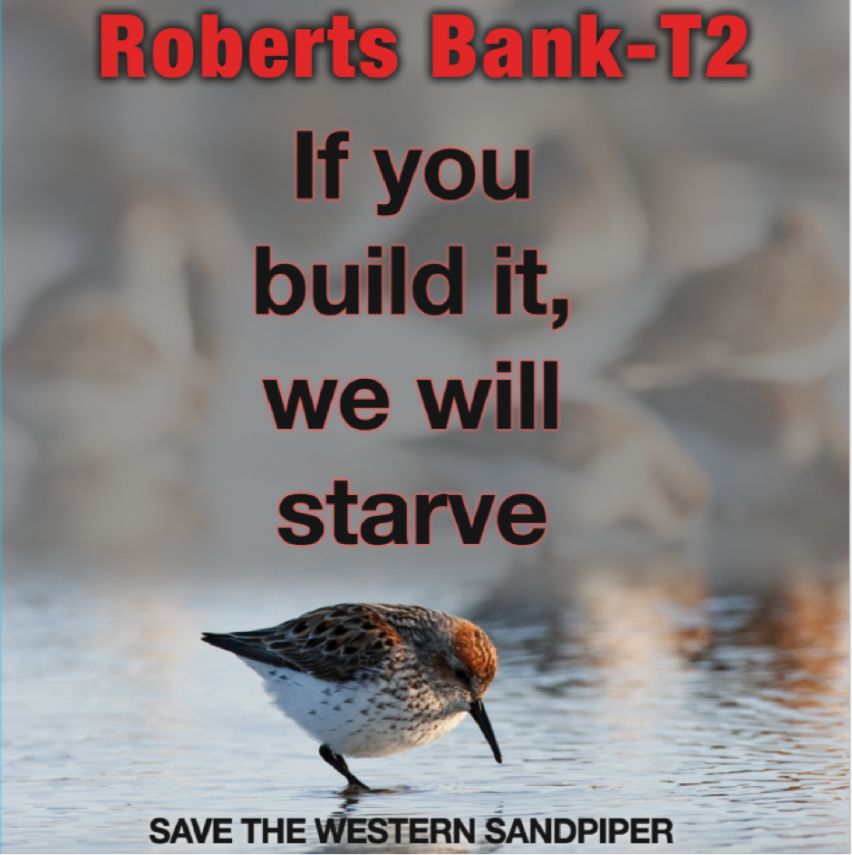 HERE IS THE CURRENT RBT2 STATUS:
MARCH 2023 STILL NO DECISION - AFTER EIGHT YEARS !!
MAR. 27 2020 THE FEDERALLY-APPOINTED REVIEW PANEL PUBLISHED ITS REPORT IDENTIFIYING SIGNIFICANT ADVERSE ENVIRONMENTAL EFFECTS IN MANY AREAS SHOULD RBT2 BE BUILT.

AUG. 24 2020 THE FEDERAL ENVIRONMENT MINISTER PAUSED THE DECiSiON PROCESS AND ASKED THE PORT FOR MORE INFORMATION.
AUG. 28 2020 THE PORT SAYS IT WILL HAVE COMPLETED GATHERING THE ADDITIONAL INFORMATION PRIOR TO YEAR END
NOV. 5 2020 THE PORT SAYS IT WILL NOT PROVIDE THE INFORMATION UNTIL SUMMER 2021.
SEP 24 2021 PORT PROVIDED ITS RESPONSE
DEC 15 GOVERNMENT PROVIDED A DRAFT OF POTENTIAL CONDITIONS FOR APPROVAL AND OPENED FINAL ROUND OF PUBLIC COMMENT
MAR 15 2022 PUBLIC COMMENT PERIOD CLOSED WITH THOUSANDS OF OPPOSING SUBMISSIONS
APR 22 2022 PORT RESPONDED TO SOME OF THE OPPOSING SUBMISSIONS, BUT NOT ON THE KEY ISSUE, BIOFILM
JUNE 10 2022 PORT RESPONDED ON THE BIOFILM ISSUE. SAME OLD FLAWED SCIENCE, PROMOTING BIOFILM REPLACEMENT WHEN INTERNATIONALLY RECOGNIZED SCIENCE SAYS THIS IS IMPOSSIBLE ON THE SCALE NECESSARY TO REPLACE WHAT WILL BE LOST
SEPTEMBER 2022 - A WALL OF SILENCE REMAINS OVER OTTAWA ON RBT2
OCTOBER 26 2022 - ENVIRONMENT CANADA RESPONDS TO THE VFPA WITH A DETAILED ANALYSIS DEMONSTRATING YET AGAIN THAT RBT2 WILL RESULT IN SIGNIFICANT ADVERSE ENVIRONMENTAL EFFECTS THAT CANNOT BE MITIGATED. ECCC SCIENTISTS STATE:


"Given the importance of the Roberts Bank site for the Western Sandpiper, the nutritional requirements for fatty acids of migrating shorebirds, and the predicted effects of the Project on biofilm quantity and quality, ECCC continues to advise that the changes predicted as a result of the Project, as currently designed, would likely constitute an unmitigable species-level risk to Western Sandpipers, and shorebirds more generally".

January 23 2023 Ottawa decides it has all the information it needs to make a decision
Febuary 2023 - The RBT2 Decision is with the Federal Cabinet acting as Governor in Council
March 5 Still waiting for a decision from Ottawa
SO MANY QUESTIONS:
WHAT IS THE PORT AFRAID OF AND

WHAT IS IT TRYING TO HIDE?

WHY DID THE PORT HIRE AN ENGINEER TO MANAGE INFRASTRUCTURE DELIVERY AND

GET CONTRACTS SIGNED FOR A T2 OPERATOR?
SO MANY QUESTIONS, NO ANSWERS FROM THE FEDERAL GOVERNMENT.
WE NEED YOUR HELP. NOW IS THE IDEAL TIME TO URGE THE FEDERAL GOVERNMENT TO REJECT ROBERTS BANK TERMINAL 2.
The govenrment has the science, facts and evidence. Its own scientists say RBT2 will result in significant adverse environmental effects that cannot be mitigated. How much more does the government need to reject this project?
And so the saga continues, eight years and counting, wasting more taxpayer funds.
KEEP THE PRESSURE ON THE FEDERAL GOVENRMENT
TELL THEM YOU WILL NOT ACCEPT RBT2 BEING APPROVED.
WRITE TO MINISTER GUILBEAULT. SELECT COPY & PRINT THIS
Attention Minister Steven Guilbeault: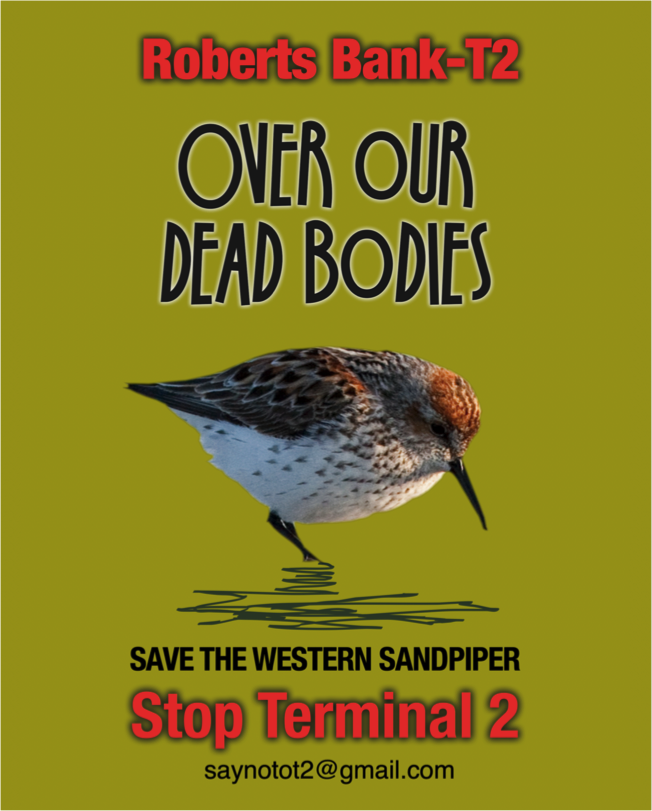 Roberts Bank Terminal 2 (RBT2) is environmentally unsustainable. Environment and Climate Change Canada scientists have consistently characterized the negative environmental impacts of the RBT2 project as permanent, irreversible and continuous, disrupting and eliminating quality fatty acid production from diatoms in biofilm across Roberts Bank by dampening and reducing salinity. These particular fatty acids are absolutely required by Western Sandpipers and disrupting their production may also have negative implications for salmon and crab production, as well as eulachon a major part of Indigenous heritage. Many international scientists agree, as do Birds Canada, Western Hemisphere Shorebird Reserve Network, BC Nature, Nature Canada and others.
I am opposed to RBT2 and petition you to deny approval for this project.
Signed________________________Email____________________________________
Name_____________________________________Postal Code__________________
AND MAIL TO
Minister Steven Guilbeault POST FREE
House of Commons
Ottawa, Ontario, K1A0A6
Click Here to Sign the Petition
See what others are doing to stop RBT2:
1. Fraser Delta in the International spotlight. Birdlife Interantional has joined the fight to stop RBT2.
https://www.birdlife.org/worldwide/news/waterfowl-winter-refuge-fraser-river-delta-risks-being-lost-forever?utm_source=BirdLife+International+News+Notifications&utm_campaign=a1bb67f58b-Summary_news_notification&utm_medium=email&utm_term=0_4122f13b8a-a1bb67f58b-131704081&mc_cid=a1bb67f58b&mc_eid=0757e28fcf
2. In May 2022 The Garden City Conservation Society published a comprehenisive analysis of all that is wrong with the RBT2 project, under the title Stop RBT2 - To Enable Success, and sent it to the federal Environment Minister and the Cabinet
stoprbt2_enablesuccess_gccs_0.pdf
3. A video by Ranincoast Conservation
https://youtu.be/HkKLY3P2_ys
4. Natural Legacies versus Waste
https://gardencitylands.wordpress.com/2020/04/04/fraser-voices-urges-federal-government-to-reject-roberts-bank-port-expansion/
5. Fraser Voices
https://www.facebook.com/FraserVoices/posts/2525873930958632?__cft__[0]=AZUdM4gLQGuLAuiIVb_6PxF5BNrdBoz4KiElrrlqVoUBShwuJp6UHSY5mWAGz0etwKLQsE10_Ss-qK7aGDQemFBPCb8nyQsjtbRBGMWEMaqncH-9Dc-WYdwptkuZASF4OsN487dcEmp0wBKuk9JfpC8C0GMYxI1uj79xp-tiD_FXKA&__tn__=%2CO%2CP-R
6. Georgia Strait Alliance
https://georgiastrait.org/work/species-at-risk/proposed-terminal-2-deltaport-expansion-2/
No Need For West Coast Port Expansion
Canada doesn't need any further Port Expansion on Roberts Bank. Here is why.
The container shipping landscape in the Americas is changing. West Coast Canada container terminals can no longer expect their volumes to grow year over year.
As this recent article in Business in Vancouver indicates, West Coast port container volumes are in decline.
https://biv.com/article/2023/03/why-chinas-mexico-moves-matter-british-columbias-supply-chain-business
China is investing heavily in Mexico under its Belt Rail and Road Initiative. They are building manufacturing capability and investing in logistics and port infrastructure.
Inevitably this means West Coast North American ports will no longer see much growth if any in their container volumes. Nowhere will this be more evident than in Vancouver that relies on handling significant volumes of US container traffic.
Full container loads handled by Vancouver area ports declined again in 2022 - down by 9%, whereas containerized cargo volume to Lazaro Cardenas, Ensenada and other West Coast Mexican ports has risen 26 per cent since 2019. With more container traffic now moving through the Panama Canal to Gulf and East Coast ports and Mexican ports' container volumes surging the big loser is the Vancouver Fraser Port Authority (VFPA).
As you may know VFPA uses UK based Drewry Shipping Consultants to assist them in developing container growth forecasts. It is Drewry, in their latest trend analyses, who are now indicating that diversion away from West Coast ports to Mexico and Gulf and East Coast ports will increase.
There is simply no need for any further port expansion on Roberts Bank.
Why waste time effort and expense in carrying out an environmental assessment for GCT Berth 4 when there is no need for any further port expansion.
Here is the only sustainable solution:
1. The federal government deny approval outright for Roberts Bank Terminal 2
2. The federal and provincial governments terminate the GCT Berth 4 assessment now.

RBT2 Threatens the Crab Fishery
One of the many devastating effects of the Roberts Bank Terminal 2 project is that on crab harvesting. Harvesting crabs in the Fraser Estuary has been done for generations. Now the Vancouver Fraser Port Authority's project puts all that at risk.
See the recent video by Steven Stark, president Salish Sea Indigenous Guardians Association (SSIGA), who is also a member of Tsawwassen First Nation, recently posted on the PortWatch website https://portwatch.ca.
https://portwatch.ca/news/f/tsawwassen-first-nation-member-steven-stark---rbt2-concerns
In March 2022 the SSGIA had requested from the Impact Assessment Agency Canada a Regional Assessment of Cumulative Effects in the Salish with a focus on port development, in particular Roberts Bank Terminal 2 and the GCT Berth 4 project.
That request received a great deal of support from many groups, including the BC Environmental Assessment Office as well as APE. However the IAAC turned down the request.
A cumualtive effects assessment for the whole of the Salish Sea has never been done properly. Certain entities don't want one done because it would expose the magnitude of damage that port and industrial development is doing to the Salish Sea.

RBT2 - Will Ottawa Listen to the People
OF THE PEOPLE
FOR THE PEOPLE
BY THE PEOPLE

Container Cargo Growth Dropped off a Cliff
This excerpt from the full article in Business in Vancouver December 19, 2022 says it all:
"Demand growth for container cargo movement measured in 20-foot-equivalent units (TEUs), according to Lars Jensen, CEO of Denmark's Vespucci Maritime, "has dropped off a cliff."
https://biv.com/article/2022/12/updated-choppy-fiscal-seas-ahead-container-carriers-and-terminals-2023
Since RBT2 is now before cabinet, acting as Governor in Council, it is more than likely they are being bombarded with statements from Vancouver Fraser Port Authority CEO Robin Silvester to the effect that to save Canada's trade from descending into the abyss it is critical for RBT2 to receive approval.
Certainly in the public domain CEO Silvester continues to promote the fiction that West Coast Canada is about to run out of container terminal capacity. Here are just a few of several 2022 statements from CEO Silvester:
"With continued growth, West Coast terminals are expected to run out of capacity by the mid-to late-2020s". (Pacific Maritime Magazine)
Canada's largest port could run out of container capacity in as soon as five years, exacerbating domestic and global supply chain issues, according to Robin Silvester, president and chief executive officer of the Vancouver Fraser Port Authority. (BNN Bloomberg)
"We foresee needing the capacity for Terminal 2 by the mid-to-late 2020s. We can't imagine getting that capacity ready now until 2031 or 2032. We could start running out of capacity on the west coast and we hope we'll be in the position to have Terminal 2 clearly underway, moving forward, ready to come in to relieve those capacity constraints," (Delta Optimist)
"If we consider our short- and long-term challenges at Canada's largest port, the solutions are in fact the same," Silvester said. "To provide resiliency in the face of supply-chain disruptions and to be able to support long-term growth from a position of strength, we need to continue building capacity, efficiency and resiliency throughout the port and its supply chains. Roberts Bank Terminal 2 is an essential part of that." (Port of Vancouver September 22 2022)
CEO Silvester's claims that the Port of Vancouver is averaging a 5 percent annual growth are equally false. The actual compound annual growth rate (CAGR) for the ten years up to the end of 2021 is less than 3 percent. Full 2022 container volumes - to November - handled by the Port of Vancouver are down by 8 percent compared to 2021 and by 8.3% compared to 2019, the last full year prior to the pandemic.
Of course RBT2 should be denied approval based on the science and environmental issues alone, but knowing that certain members of cabinet, incredulously, are in favour of proceeding with RBT2 it is also important they be aware that the $3.5 billion (anticipated to balloon past $4.0 billion) project will be an economic disaster that the federal government will wear.
Not only that it is worth repeating that there are expansions underway at other Canadian west coast ports, such that Canada will have plenty of container terminal capacity for decades to come without ever building the environmentally destructive and prohibitively expensive RBT2.
The Port of Prince Rupert is completing its expansion of the Fairview terminal such that its capacity will increase to 1.8 million TEUs by 2023. In addition the Port also announced plans earlier this year to build an innovative second container terminal, adding another 2 million TEUs of capacity.
Prime Minister Trudeau has stated publicly (Soul of the Fraser Film Nov. 2022) that RBT2 will be assessed based on the science. Cabinet has that science from the Environment and Climate Change Canada scientists and clearly that is science the environmental assessment must be based on, not the self-serving, flawed science being promoted by the Vancouver Fraser Port Authority.
Cabinet (acting as Governor in Council) has all the information it needs to make a decision on RBT2. There is no need for further delay. As we end 2022 let's therefore hope the Governor in Council very soon makes the decision to deny approval for RBT2 and put an end to this long running saga.