Against Port Expansion in the Fraser Estuary BC
APE (Against Port Expansion in the Fraser Estuary BC) is a group of concerned citizens who recognize that plans for container terminal expansion on Roberts Bank (RBT2) will see the loss of globally-significant wetlands and habitat (classified as a Globally Significant Important Bird and Biodiversity Area - IBA) for migratory birds, shorebirds, waterfowl, salmon, herring, crabs and orca whales; degradation of the quality of life for thousands of Lower Mainland residents; and the industrialization of prime agricultural land.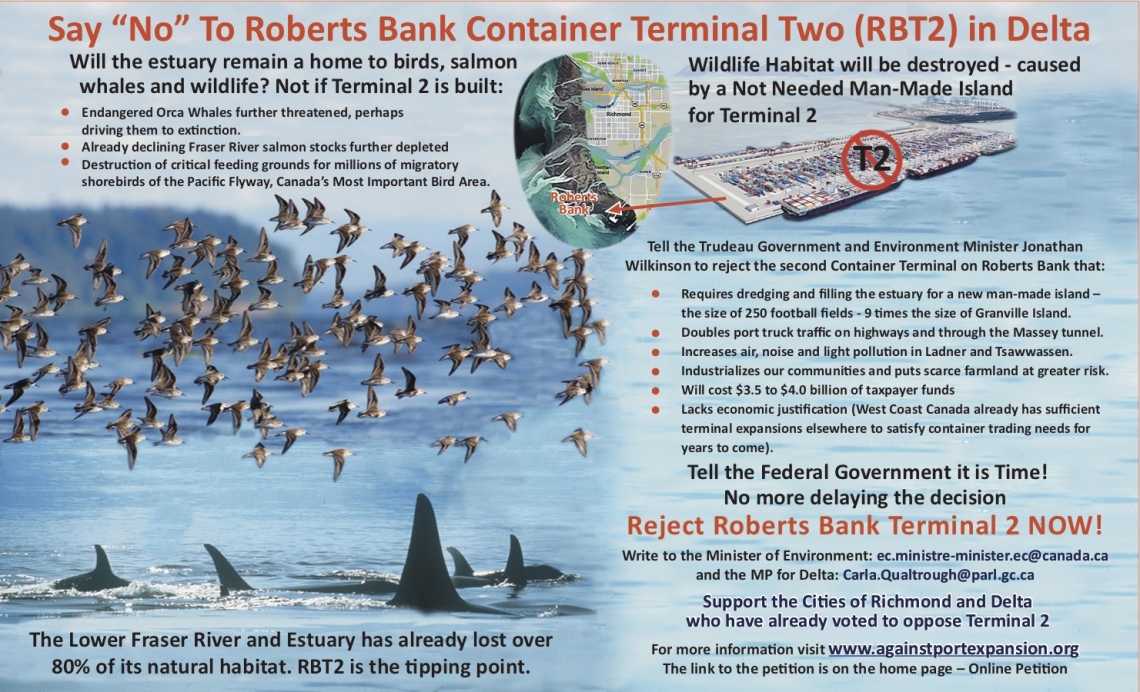 HERE IS THE CURRENT RBT2 STATUS:
MAR. 27 2020 THE FEDERALLY-APPOINTED REVIEW PANEL PUBLISHED ITS REPORT IDENTIFIYING SIGNIFICANT ADVERSE ENVIRONMENTAL EFFECTS IN MANY AREAS SHOULD RBT2 BE BUILT.

AUG. 24 2020 THE FEDERAL ENVIRONMENT MINISTER PAUSED THE DECiSiON PROCESS AND ASKED THE PORT FOR MORE INFORMATION.
AUG. 28 THE PORT SAYS IT WILL HAVE COMPLETED GATHERING THE ADDITIONAL INFORMATION PRIOR TO YEAR END
NOV. 5 THE PORT SAYS IT WILL NOT PROVIDE THE INFORMATION UNTIL SUMMER 2021.
SO MANY QUESTIONS:
WHAT IS THE PORT AFRAID OF?

WHAT IS IT TRYING TO HIDE?

WHY IS THE PORT NOW HIRING AN ENGINEER TO MANAGE INFRASTRUCTURE DELIVERY AND

GET CONTRACTS SIGNED FOR A T2 OPERATOR?
SO MANY QUESTIONS, NO ANSWERS FROM THE FEDERAL GOVERNMENT.
WE NEED YOUR HELP. NOW IS THE IDEAL TIME TO URGE THE FEDERAL GOVERNMENT TO REJECT ROBERTS BANK TERMINAL 2.
E-petition 2828 sponsored by Paul Manly MP for Nanaimo-Ladysmith called on the government to reject RBT2. It closed December 2 2020 with 1861 signatures.
https://petitions.ourcommons.ca/en/Petition/Details?Petition=e-2828
Those signing were all across Canada. Eight provinces and two territories all had signatories. It was certified and presented to the House of Commons on Dec. 9 2020. The govenrment responded January 26 2021, refusing to reject RBT2 at this time, saying the decsion will be based on science facts and evidence.
The govenrment already has the science, facts and evidence. Its own scientists say RBT2 will result in significant adverse environmental effects that cannot be mitigated. How much more does the government need to reject this project?
And so the saga continues, seven years and counting, wasting more taxpayer funds.
KEEP THE PRESSURE ON THE FEDERAL GOVENRMENT
TELL THEM YOU WILL NOT ACCEPT RBT2 BEING APPROVED
IF YOU MISSED SIGNING WE HAVE PUT UP ANOTHER PETITION.
Click Here to Sign the Petition
See what others are doing to stop RBT2:
1. Fraser Delta in the International spotlight. Birdlife Interantional has joined the fight to stop RBT2.
https://www.birdlife.org/worldwide/news/waterfowl-winter-refuge-fraser-river-delta-risks-being-lost-forever?utm_source=BirdLife+International+News+Notifications&utm_campaign=a1bb67f58b-Summary_news_notification&utm_medium=email&utm_term=0_4122f13b8a-a1bb67f58b-131704081&mc_cid=a1bb67f58b&mc_eid=0757e28fcf
2. A video by Ranincoast Conservation
https://youtu.be/HkKLY3P2_ys
3. Natural Legacies versus Waste
https://gardencitylands.wordpress.com/2020/04/04/fraser-voices-urges-federal-government-to-reject-roberts-bank-port-expansion/
4. Fraser Voices
https://www.facebook.com/FraserVoices/posts/2525873930958632?__cft__[0]=AZUdM4gLQGuLAuiIVb_6PxF5BNrdBoz4KiElrrlqVoUBShwuJp6UHSY5mWAGz0etwKLQsE10_Ss-qK7aGDQemFBPCb8nyQsjtbRBGMWEMaqncH-9Dc-WYdwptkuZASF4OsN487dcEmp0wBKuk9JfpC8C0GMYxI1uj79xp-tiD_FXKA&__tn__=%2CO%2CP-R
5. Georgia Strait Alliance
https://georgiastrait.org/work/species-at-risk/proposed-terminal-2-deltaport-expansion-2/
BC Flooding - The Risk and Absurdity of Approving Roberts Bank Terminal 2.
The devastating fires this past summer in Lytton and now the flooding in the Fraser Valley and Southern BC have laid bare the absurdity of Vancouver Fraser Port Authority's (VFPA) plans to build a second container terminal on Roberts Bank and add another 2.5 million of container (Twenty foot equivalent –TEU) capacity in Vancouver.
The loss of life, homes, and livelihoods from the most recent catastrophic flooding is a tragedy.
But there is another disaster that could and should have been expected. That is the damage to vital road and rail links that has resulted in total disruption of Canada's west coast trade routes. Every time a natural disaster like this occurs, it takes several weeks for roads and rail track to be repaired and for railroads to re-start operations. It takes even longer to clear the backlog and get normal operations resumed. The impact to Canada's economy of these road and rail outages is massive. This time around it is even worse. Port congestion was already causing supply chain disruption. BC access to the rest of Canada will be impeded for months. Damage to Highway 5 – a major trade corridor - is extensive and it will be a long time before it is re-opened. The southern rail route through the Fraser Canyon and over the Rockies, used by the Port of Vancouver, was already heavily constrained prior to this latest disaster.
In spite of this constant threat to the Canadian economy, VFPA plans to focus even more of Canada's trade through the Port of Vancouver, rather than diversifying and balancing container capacity in Prince Rupert. What good is another 2.5 million of container capacity in Vancouver if the railway linkage to Eastern Canada and the United States (where most of the containers will go) is repeatedly disrupted?
The federal government was warned 10 or more years ago, when it commissioned an expert panel to study port expansion. Diversify our trade corridors; don't funnel everything through the Port of Vancouver, is what the experts recommended. Maximize the Port of Prince Rupert, they recommended, before adding further port infrastructure in Vancouver. But the federal government ignored it and let the VFPA - a crown agency - continue to expand, subsidizing them in the process. Now we are paying the price. It is time to stop this.
There is a proposal for a new container terminal in Prince Rupert that would more equally balance container-handling capacity between Vancouver and Prince Rupert. If there is a disruption on the rail lines leading into Vancouver, ships could be diverted to Prince Rupert. But if all of the new container capacity is built in Vancouver, ships will just have to wait at anchorage until the railway blockage is repaired (and longer until the backlog is cleared).
If, or more likely now when, there is another disruption on rail lines in and out of BC there will be two major ports each capable of handling large volumes of container traffic if one is compromised.
Will the Canadian government finally wake up to this risk and tell the VFPA the next phase of container capacity must be built in Prince Rupert, in order to mitigate this risk that occurs when roads snd railway lines leading into Vancouver are disrupte
The federal government must tell the Port of Vancouver - no more port expansion; Roberts Bank Terminal 2 will not be built.
For more information visit www.againstportexpansion.org
or email Roger Emsley at info@againstportexpansion.org



Serious Container Vessel Accident and Fire near Vancouver
A serious and concerning accident occurred on October 22 2021. The container vessel ZIM Kingston, which was headed to dock with a full load of containers to a berth at Deltaport on Roberts Bank, was caught in heavy seas close to the southern tip of Vancouver Island. Our sympathy is with the vessel's owner and its crew.
Initial reports indicated 40 containers went overboard. It now transpires 109 containers went into the sea and are now drifting northwards up the coast of the island. Some containers have been tracked floating northwest of Vancouver Island towards Haida Gwaii, low in the water so a real hazard to other shipping. At least one container has been seen up on the rocks at Cape Scott. The coast guard says that while some metal containers have been reported on shore, others are expected to sink to the ocean bottom.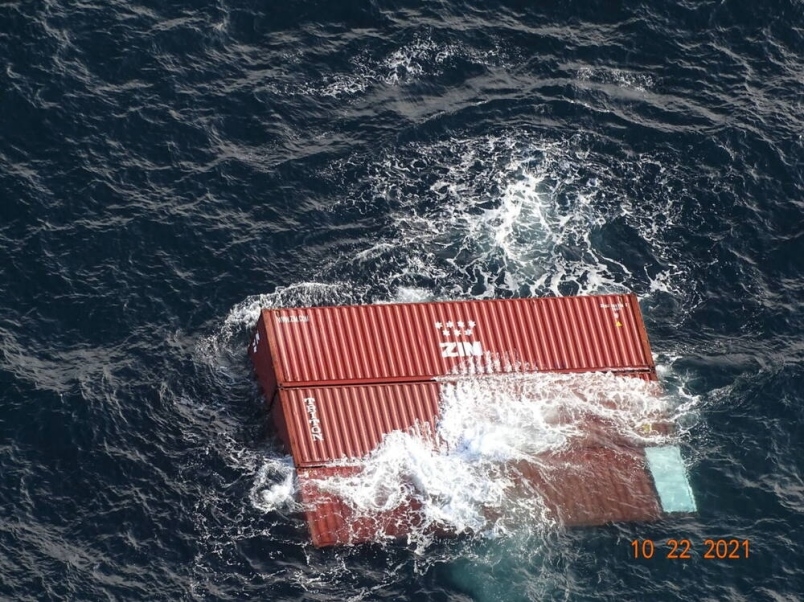 After the containers went overboard the vessel came into Georgia Strait and is now anchored off Victoria BC. Containers on the vessel caught fire soon after anchoring and have been on fire for five days with no signs of abating. Most of the crew were evacuated. Coast Guard and other vessels are close by attempting to extinguish the fires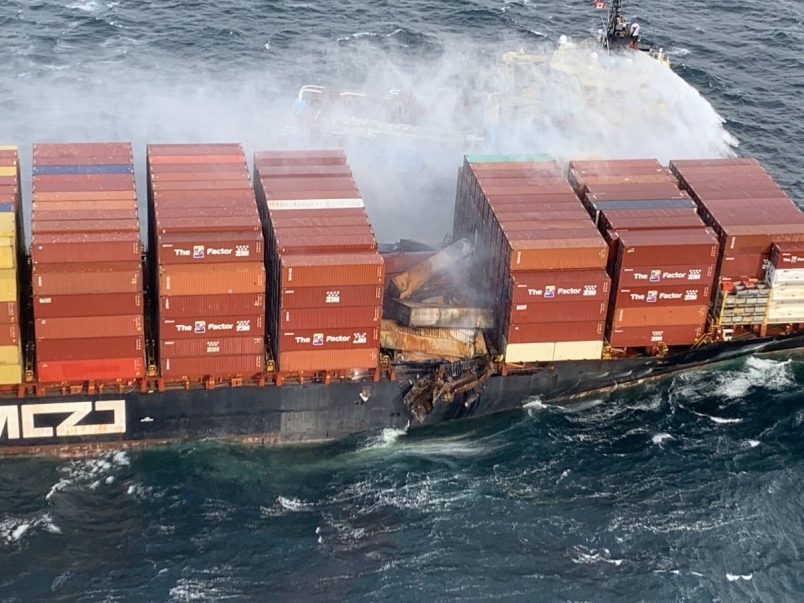 This is the kind of accident that could decimate wildlife and despoil habitat in Canadian waters. With the vessel congestion through Juan de Fuca Strait and into the Georgia Strait this may happen again in the future. If such an accident were to happen in the Georgia Strait between the mainland and Vancouver Island the effects on wlidllife and important ecosystems will be devastating. This is why there can be no further port expansion in the Fraser Estuary. This is why Roberts Bank Terminal 2 must be denied approval

Carla Qualtrough remains in Cabinet and is opposed to RBT2
MP for Delta Carla Qualtrough was re-appointed to the federal cabinet on October 26 2021.
She has previously spoken out against the Roberts Bank Container Terminal 2 (RBT2) project that is now in the final stages of environmental assessment. The government will make a decision in the near future to approve, approve with mitigation, or deny approval. We must make sure it DENIES APPROVAL.
We now need Cabinet Minister and MP Carla Qualtrough to act on her concerns. Here is part of what she wrote on September 19 in a letter that is published on the APE website:
"I am of the strong opinion that port expansion cannot be at the expense of the environment. As you know, I have followed this file very closely over the years and have been firm in my position that I am not convinced that the adverse and cumulative environmental impacts of the RBT2 Project can be adequately mitigated"
So now we need her to act on what she said and ensure the cabinet acts to deny approval of RBT2.
Write to the Hon Carla Qualtrough at carla.qualtrough@parl.gc.ca and ask her to voice her concerns in cabinet and parliament. Ask her to make sure RBT2 is DENIED APPROVAL. Send a copy of the email to the Minister Environment and Climate Change Canada - Steven Guilbeault - at ec.ministre-minister.ec@canada.ca. Ask both for a response to your letter.
Please also send a copy to saynottot2@gmail.com

Roberts Bank Election Candidates" Responses
Five Questions concerning the Roberts Bank Terminal 2 Project were sent to federal election candidates as follows:
1. If elected will you speak up and publicly oppose approval of RBT2? Yes or No.
2. Government scientists have said if built RBT2 will result in immediate, irreversible, continuous, negative environmental effects that cannot be mitigated. Do you agree and endorse their scientific conclusion? Yes or No.
3. The Lower Fraser and Estuary has lost 80 percent of the natural habitat to port and industrial development. Will you support action to protect what remains of the natural habitat? Will you commit to making Roberts Bank a national marine protected area with no further port development on Roberts Bank? Yes or No.
4. The Salish Sea - Juan de Fuca Strait, Georgia Strait and Puget Sound - are choking from ever increasing commercial vessel transits. Will you support placing an annual cap on the number of commercial vessel transits through Canadian waters to better protect wildlife species and their habitat? Yes or No..
5. Canada's trading needs will be well satisfied for decades to come with the already announced expansions of container terminal capacity in Prince Rupert as well as expansions of existing Vancouver area terminals, without ever building Roberts Bank Terminal 2. Do you support maximizing terminal expansion potential at Prince Rupert? Yes or No.
Here are election candidates' responses - as of September 20 - to the questions posed to them:
Monika Dean NDP
No Response
Hong Yan Pan Independent


1. Yes
2. Yes, as long as it is evidenced based report e.g. peer reviewed high quality research. I appreciate indigenous people consultation is also included in the decision making process.
3. Yes
4. Yes
5. Potentially yes, I need to do separate research to answer some questions e.g. what are the environmental impacts to Prince Rupert? Especially, what are the emergency measures to prevent oil spill from the containers in case of major earthquakes in the Prince Rupert area?

Carla Qualtrough Liberal Party
Responded Sep 19 2021 as follows:
Dear Roger,
I am writing this letter in response to your questions to candidates in the
2021 with respect to the RBT2 Project.
To begin, please be assured that while I recognize the key role that
Deltaport plays in our economy and global trade, I am of the strong opinion
that port expansion cannot be at the expense of the environment.
As you know, I have followed this file very closely over the years and have
been firm in my position that I am not convinced that the adverse and
cumulative environmental impacts of the RBT2 Project can be adequately
mitigated.
In the 2019 election we were awaiting the Environmental Assessment
Panel's findings, which were published in March 2020. The findings were
very concerning and reinforced my position. As you know, the federal
Environment Minister subsequently wrote to the Port in August 2020
requesting further information and the Port has not as of yet responded.
The City of Delta and the City of Richmond have also expressed their
opposition to the Project in light of the Panel's findings, and have written to
the Prime Minister to request that the project not be approved.
Rest assured that I am very committed to following the science and
listening to the experts when it comes to this project as well as to ensuring
that we protect and restore the Fraser River Estuary. I believe that Delta
can benefit significantly from our specific Liberal platform commitments to
restoring and enhancing wetlands: to a Fresh Water Strategy that will
restore the Fraser River Estuary; and to advancing the Pacific Salmon
Strategy.
I also think that our community will benefit from the ongoing port
governance review being conducted by Transport Canada. The "What We
Heard Report" that was published highlighted the need to assess and
manage the negative impact of port development, as well as strategically
managing ports along the West Coast.
Additionally, the work being done to re-constitute a multi-jurisdictional
Fraser River regional coordinating body modelled after the previous
FREMP is very important. I am also very fond of the recently announced
Burrard Inlet Environmental Science and Stewardship Agreement between
the Government of Canada and the Tsleil-Waututh Nation that will
coordinate stewardship activities and scientific research and analysis in
Burrard Inlet. This Agreement includes a $20 million investment over ten
years to maintain the Burrard Inlet Environmental Science and Stewardship
Fund. I think a similar model could serve the Fraser River well, and have
spoken to the Environment Minister about exploring this post-election.
If re-elected, my approach moving forward will be to continue to convey
what I am hearing from constituents and municipal leaders; to follow the
science and expert advice; to be both critical and open-minded in
assessing new information; to ask the tough questions; and to not back
down on my areas of concern.
In closing, I have very much appreciated working with you over the last six
years. I look forward to continuing to work together in the future.
Sincerely,
Carla Qualtrough
Garry Shearer Conservative Party
No Response
Jeremy Smith Green Party of Canada
No Response
Paul Tarasenko Peoples Part of Canada
No Response
Thanks to (Melody) Hong Yan Pan who thoughtfully and after doing her own reserach was the first candidate to answer. Thanks to Carla Qualtrough for also responding.
Attention: Supporters of the Roberts Bank ecosystem and its wildlife - now the election is over and MP Carla Qualtrough has been re-elected please hold her to what she said in her response above. Write to MP Qualtrough at carla.qualtrough@parl.gc.ca.