Against Port Expansion in the Fraser Estuary BC
APE (Against Port Expansion in the Fraser Estuary BC) is a group of concerned citizens who recognize that plans for container terminal expansion on Roberts Bank (RBT2) will see the loss of globally-significant wetlands and habitat (classified as a Globally Significant Important Bird and Biodiversity Area - IBA) for migratory birds, shorebirds, waterfowl, salmon, herring, crabs and orca whales; degradation of the quality of life for thousands of Lower Mainland residents; and the industrialization of prime agricultural land.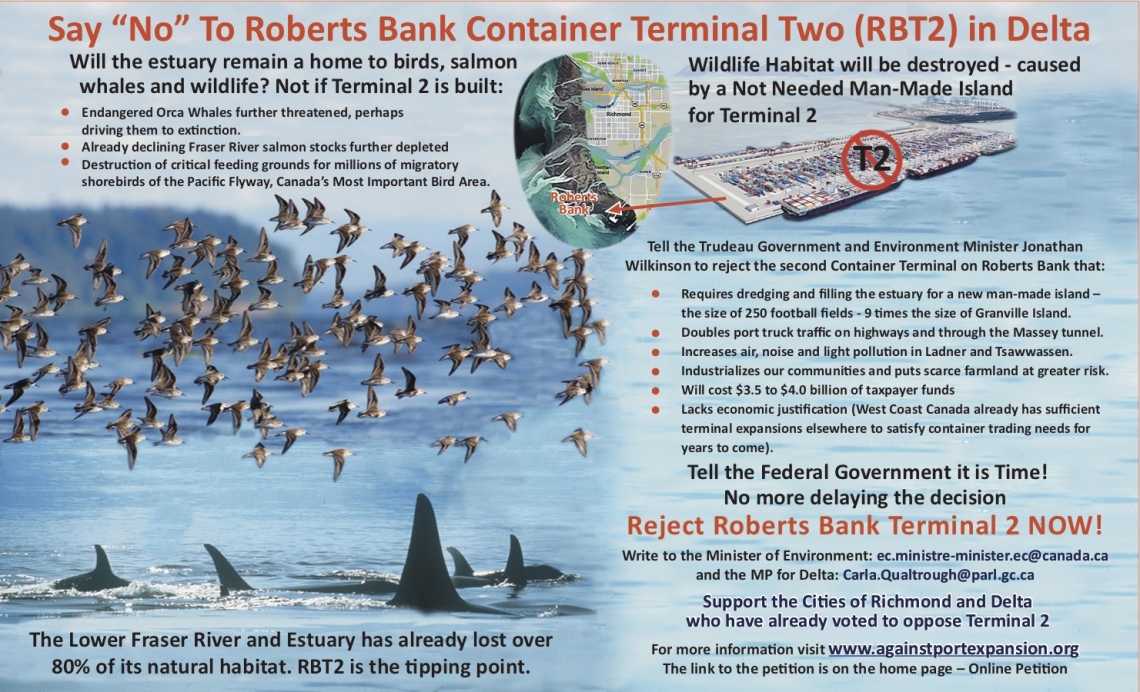 HERE IS THE CURRENT RBT2 STATUS:
MAR. 27 2020 THE FEDERALLY-APPOINTED REVIEW PANEL PUBLISHED ITS REPORT IDENTIFIYING SIGNIFICANT ADVERSE ENVIRONMENTAL EFFECTS IN MANY AREAS SHOULD RBT2 BE BUILT.

AUG. 24 2020 THE FEDERAL ENVIRONMENT MINISTER PAUSED THE DECiSiON PROCESS AND ASKED THE PORT FOR MORE INFORMATION.
AUG. 28 THE PORT SAYS IT WILL HAVE COMPLETED GATHERING THE ADDITIONAL INFORMATION PRIOR TO YEAR END
NOV. 5 THE PORT SAYS IT WILL NOT PROVIDE THE INFORMATION UNTIL SUMMER 2021.
SO MANY QUESTIONS:
WHAT IS THE PORT AFRAID OF?

WHAT IS IT TRYING TO HIDE?

WHY IS THE PORT NOW HIRING AN ENGINEER TO MANAGE INFRASTRUCTURE DELIVERY AND

GET CONTRACTS SIGNED FOR A T2 OPERATOR?
SO MANY QUESTIONS, NO ANSWERS FROM THE FEDERAL GOVERNMENT.
WE NEED YOUR HELP. NOW IS THE IDEAL TIME TO URGE THE FEDERAL GOVERNMENT TO REJECT ROBERTS BANK TERMINAL 2.
E-petition 2828 sponsored by Paul Manly MP for Nanaimo-Ladysmith called on the government to reject RBT2. It closed December 2 2020 with 1861 signatures.
https://petitions.ourcommons.ca/en/Petition/Details?Petition=e-2828
Those signing were all across Canada. Eight provinces and two territories all had signatories. It was certified and presented to the House of Commons on Dec. 9 2020. The govenrment responded January 26 2021, refusing to reject RBT2 at this time, saying the decsion will be based on science facts and evidence.
The govenrment already has the science, facts and evidence. Its own scientists say RBT2 will result in significant adverse environmental effects that cannot be mitigated. How much more does the government need to reject this project?
And so the saga continues, seven years and counting, wasting more taxpayer funds.
KEEP THE PRESSURE ON THE FEDERAL GOVENRMENT
TELL THEM YOU WILL NOT ACCEPT RBT2 BEING APPROVED
IF YOU MISSED SIGNING WE HAVE PUT UP ANOTHER PETITION.
Click Here to Sign the Petition
See what others are doing to stop RBT2:
1. Fraser Delta in the International spotlight. Birdlife Interantional has joined the fight to stop RBT2.
https://www.birdlife.org/worldwide/news/waterfowl-winter-refuge-fraser-river-delta-risks-being-lost-forever?utm_source=BirdLife+International+News+Notifications&utm_campaign=a1bb67f58b-Summary_news_notification&utm_medium=email&utm_term=0_4122f13b8a-a1bb67f58b-131704081&mc_cid=a1bb67f58b&mc_eid=0757e28fcf
2. A video by Ranincoast Conservation
https://youtu.be/HkKLY3P2_ys
3. Natural Legacies versus Waste
https://gardencitylands.wordpress.com/2020/04/04/fraser-voices-urges-federal-government-to-reject-roberts-bank-port-expansion/
4. Fraser Voices
https://www.facebook.com/FraserVoices/posts/2525873930958632?__cft__[0]=AZUdM4gLQGuLAuiIVb_6PxF5BNrdBoz4KiElrrlqVoUBShwuJp6UHSY5mWAGz0etwKLQsE10_Ss-qK7aGDQemFBPCb8nyQsjtbRBGMWEMaqncH-9Dc-WYdwptkuZASF4OsN487dcEmp0wBKuk9JfpC8C0GMYxI1uj79xp-tiD_FXKA&__tn__=%2CO%2CP-R
5. Georgia Strait Alliance
https://georgiastrait.org/work/species-at-risk/proposed-terminal-2-deltaport-expansion-2/
Save the Fraser Estuary by Stopping Roberts Bank Terminal 2
For how much longer is the Port of Vancouver going to continue spinning misinformation that Roberts Bank Terminal 2 is environmentally sustainable and is the only solution to satisfy Canada's container trading needs?
At its recent Annual General Meeting the Port of Vancouver continued with its misinformation regarding the environmental impacts of it's Roberts Bank Container Terminal 2 (RBT2) project and the business need for more container capacity on the Canadian West Coast.
In answer to this question at the meeting:
"The Fraser estuary is on the bank of collapse, several new research studies in the media are demonstrating it. Why is the port of Vancouver persisting with its $3.5 billion plus environmentally disastrous RBT2 when both B.C. container terminal operators GCT and DP World have proposed environmentally sustainable terminal expansions?"
The Port Senior Management responded that the terminal would be built in deep water well away from shores and habitats. That is irrelevant.
By building this huge man made island - the size of 250 football fields - they will alter tidal flows, water temperature and salinity. It is the salinity and its fluctuations that produce the fatty acid rich diatoms in the biofilm on the mudflats that is an essential food source for millions of birds and other wildlife. That man-made island lessens the fluctuations in salinity and the biofilm will no longer have the richness and the polyunsaturated fatty acids and Omega 3 that the birds need. This could well lead to the extinction of the Western Sandpipers that rely on it when they stop to refuel on their way to their arctic breeding grounds.
In answer to another question:
"The impacts of a future potential RBT2 development on the ecosystem within the Salish Sea will be devastating. How is the Port reconciling this reality against its intention to continue with its pursuit of the new terminal?"
Port senior management stated that the additional information they are preparing for the Environment Minister shows that this project can be built and operate in ways that can mitigate environmental impacts. They went on to state: "By the time terminal 2 is complete, we are going to be leaving a legacy of environmental benefits behind as a result of the project".
Nonsense!
The government's own scientists are insistent, stating this project will result in significant adverse environmental effects that cannot be mitigated. They told the Environmental Assessment Panel the project's impacts on biofilm "are anticipated to be high in magnitude, permanent, irreversible, and continuous". In other words, immitigable
There is no point in the Port providing more of its paid-for consultants' developed science to the Minister. None of that science has been published in peer-reviewed science journals and much of it runs counter to the scientific community's findings that the Fraser Estuary is part of an already observed and wider biodiversity collapse in the Salish Sea, driven by projects like Roberts Bank Terminal 2.
Port senior management continue to misinform the public, policy makers and politicians In terms of a business need for RBT2. Port senior management claims RBT2 is the only project to meet Canada's needs by the end of the 2020s.
That is patently false information.
At a recent presentation DP World, the operator of the Vancouver Centerm, Fraser Surrey Docks and Prince Rupert container terminals stated they will:
1. Continue to operate the Fraser Surrey Docks container terminal beyond 2023 (The Port says the terminal will decline because of limitations in the River).
2. By 2022 finish expansion of the Centerm Terminal to provide 1.5 million Container (TEU) capacity.
3. By 2023 expand Prince Rupert's Fairview Terminal to provide 1.8-million (TEU) capacity.
4. Between 2028 and 2030 bring a second terminal (On South Kaien Island) into operation giving Prince Rupert container capacity in excess of 5 million TEUs.
Taken together and adding in Global Container Terminals capacities at Deltaport and Vanterm in the inner harbour, West Coast Canada will have in excess of 10 million container terminal capacity by 2030. The Port of Vancouver's own recently updated forecast shows West Coast Canada terminals will handle between 7.5 to 8.8 mill TEUs by 2045. Therefore there is clearly no need to build RBT2 at the huge cost of $3.5 billion plus whilst devastating the natural habitat and the Roberts Bank ecosystem in the process.
The federal government and cabinet must now recognize the only responsible action is to reject the Roberts Bank Terminal 2 project, thereby preserving this ecosystem and wildlife habitat essential for the survival of 102 species at risk of extinction, plus over 2 billion juvenile salmon, and the 1.4 million migratory birds that visit this stop on the Pacific flyway every year.
Read these two documents to understand why the Fraser Estuary is on the brink of collapse and why RBT2 is not needed - ever
The_Fraser_Estuary_is_on_the_Brink_of_Collapse_May_2021.pdf

Fraser Estuary Under Threat
The Fraser Estuary is threatened with even more habitat destruction.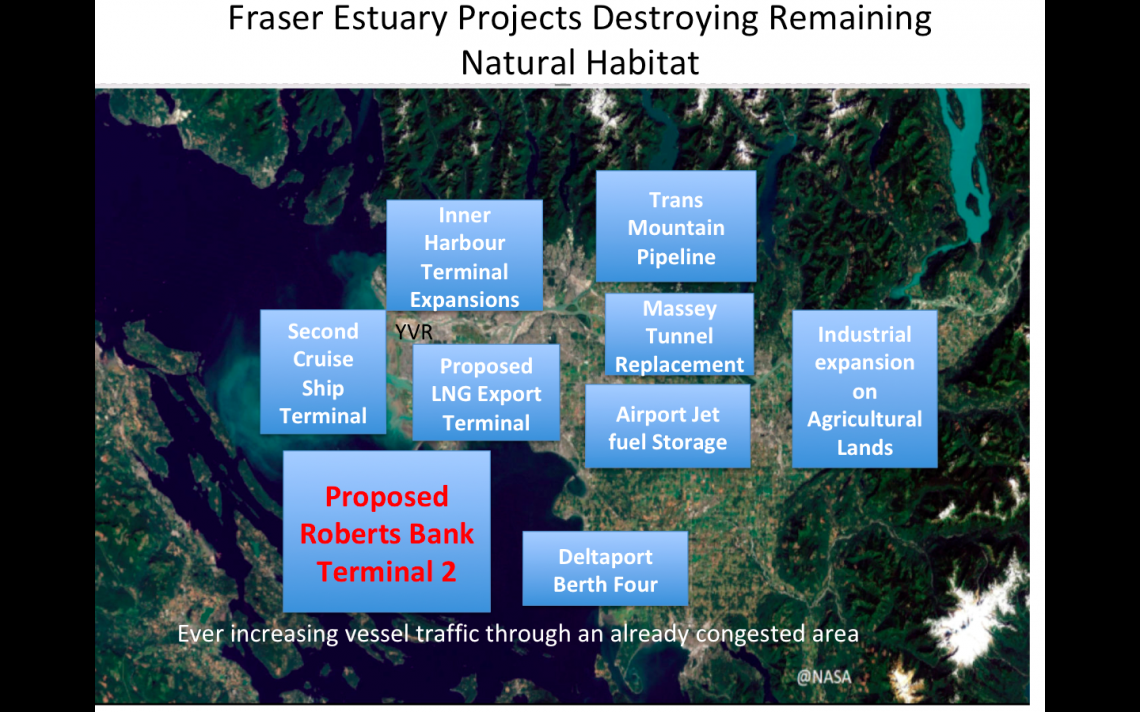 A new presentation has just been released. It describes the Fraser Estuary and Roberts Bank, the habitat, ecology, environment and the threats and environmental degradation that it faces. View it here

New Nature Agreement - Must include rejecting RBT2
Canada and Britsh Columbia annouce new Nature Agreement.
https://www.newswire.ca/news-releases/canada-and-british-columbia-launch-development-of-a-new-nature-agreement-851016797.html
In announcing this agreement here is what Minister Wilkinson Environment and Climate Change said:
"We live in a province with unique species and ecosystems found nowhere else in the world. Protecting and promoting the recovery of threatened species is a responsibility and requires action based on collaboration. The British Columbia–Canada Nature Agreement will ensure we are working with our federal counterparts, Indigenous nations, and others to define new approaches that are supported by science and Indigenous knowledge. These first pilot projects will strengthen habitat protection for the threatened species which depend on it, such as the Spotted Owl, and help build a systemic approach to protection of biodiversity."
So let's all hope he follows through and as part of building a "a systemic approach to protection of biodiversity" that he also rejects the Roberts Bank Terminal 2 project.
To help him achieve that send him an email to: ec.ministre-minister.ec@canada.ca and copy in BC Minister George Heyman at ENV.minister@gov.bc.ca

World Wetlands Day 2021
50 years ago on Feb. 2 the Ramsar Convention came into effect, to highlight the importance of wetlands to the plsnet and human well-being.
In 2012 The Fraser Estuary received the designation as a wetland of international importance under the Ramsar Convention.
Will it remain a wetland of international importance if Roberts Bank Terminal 2 is built? Not likely.
Is The Vancouver Fraser Port Authority's Roberts Bank Terminal 2 (RBT2)
environmentally sustainable?
Answering just one question determines if RBT2 should be approved. The question - are the significant adverse environmental effects that will result from building RBT2 fully mitigable?
On August 24 2020 Environment and Climate Change Canada Minister Jonathan Wilkinson acknowledged, " …that even taking into account mitigation measures the Review Panel determined that significant adverse effects to fish and fish habitat, including species at risk, human health, and current use of lands and resources for traditional purposes, among others were likely". So is RBT2 mitigable? Is the project environmentally sustainable?
Not according to many who say NO, including:
Environment and Climate Change Canada (ECCC) scientists. In reports and published papers in independent internationally peer-reviewed scientific journals submitted to the Environmental Assessment Review Panel the scientists said the project's impacts on biofilm (a critical food source for million of shorebirds) "are anticipated to be high in magnitude, permanent, irreversible, and, continuous". In other words unmitigable.
ECCC scientists also rebutted the Port's claim that biofilm can be created, stating, "there are no accepted techniques to remediate for functional biofilm for shorebirds on intertidal mudflats", nor enough other available habitat to replace what will be lost if RBT2 is built, therefore mitigation for this habitat loss is not possible.
The Canadian Wildlife Service, state Western Sandpipers have been declining at 2 percent a year and the entire species risks extinction if RBT2 is built.
Forty or more environmental and other groups including BC Nature, Birds Canada and Nature Canada have all registered opposition, stating RBT2 will result in significant adverse environmental effects that cannot be mitigated.
The cities of Richmond and Delta, both of whom voted to oppose RBT2.
Major international environmental organizations such as BirdLife International (which lists the Fraser Estuary as an "Important Bird Area" in danger) and the Western Hemisphere Shorebird Reserve Network.
Recently published UBC research states the Fraser Estuary is on the brink of collapse and 102 species are at risk of extinction. (Conservation Science and Practice Journal)
Internationally recognized scientists (Professors Pat Baird (SFU) and Peter Beninger (University of Nantes), experts in ecosystem function, have vigorously challenged the Port science – the Port science has never been published in an independent peer-reviewed scientific journal.
Georgia Strait Alliance and Ecojustice state the Southern Resident Killer Whales are subjected to increasing levels of underwater noise plus a lack of Chinook salmon that put them at increased risk of extinction, made much worse as a result of RBT2.
Raincoast Conservation and Rivers Institute (M.Rosenau) state RBT2 will impede the ability of juvenile salmon to access rearing habitat in the estuary and increase the risk of predation as the juveniles navigate around the port causeway, Deltaport and now (if built) RBT2.
If not mitigable then is RBT2 otherwise justifiable? Is an additional terminal needed on Roberts Bank because West Coast Canada is running out of terminal capacity as VFPA claims? Not according to the statistics. Despite claims of record growth VFPA's 2019 and 2020 volumes have remained basically flat compared to 2018. Its twelve-year compound annual growth rate is below 3 percent. Global Container Terminals and DP World are both adding capacity in Vancouver. DP World has plans for a large expansion at Prince Rupert, all this giving the West Coast potential capacity of 10 million container's (TEUs), sufficient to accommodate Canadian trade for decades to come without ever building RBT2.