Against Port Expansion in the Fraser Estuary BC
APE (Against Port Expansion in the Fraser Estuary BC) is a group of concerned citizens who recognize that plans for container terminal expansion on Roberts Bank (RBT2) will see the loss of globally-significant wetlands and habitat (classified as a Globally Significant Important Bird and Biodiversity Area - IBA) for migratory birds, shorebirds, waterfowl, salmon, herring, crabs and orca whales; degradation of the quality of life for thousands of Lower Mainland residents; and the industrialization of prime agricultural land.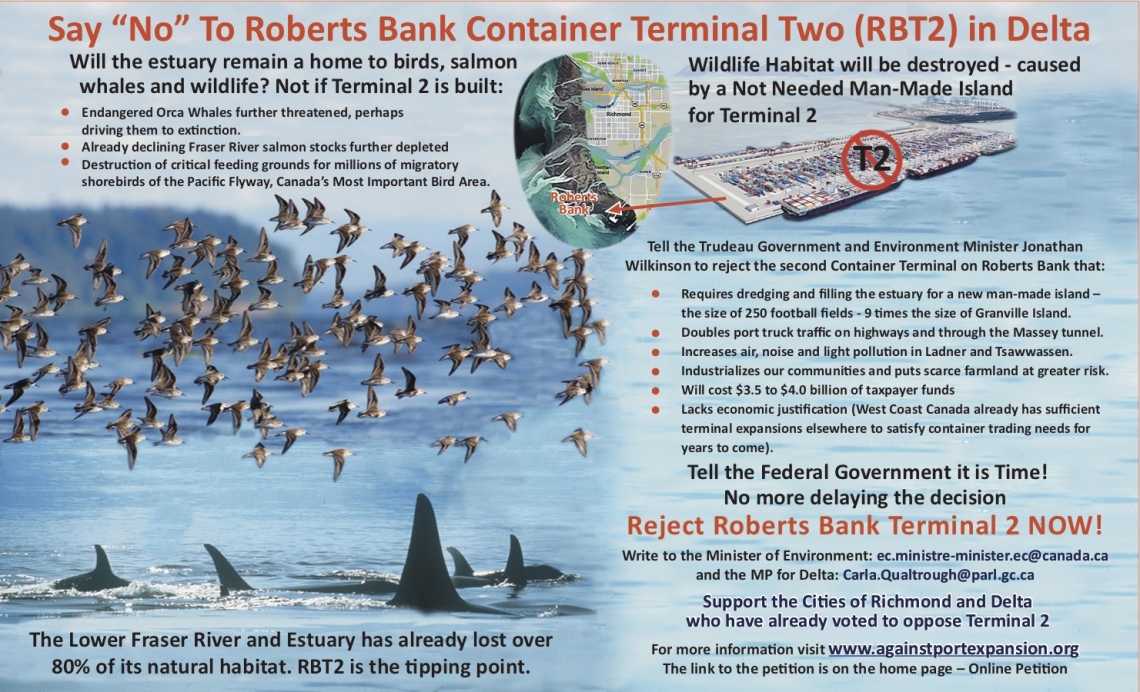 HERE IS THE CURRENT RBT2 STATUS:
MAR. 27 2020 THE FEDERALLY-APPOINTED REVIEW PANEL PUBLISHED ITS REPORT IDENTIFIYING SIGNIFICANT ADVERSE ENVIRONMENTAL EFFECTS IN MANY AREAS SHOULD RBT2 BE BUILT.

AUG. 24 2020 THE FEDERAL ENVIRONMENT MINISTER PAUSED THE DECiSiON PROCESS AND ASKED THE PORT FOR MORE INFORMATION.
AUG. 28 THE PORT SAYS IT WILL HAVE COMPLETED GATHERING THE ADDITIONAL INFORMATION PRIOR TO YEAR END
NOV. 5 THE PORT SAYS IT WILL NOT PROVIDE THE INFORMATION UNTIL SUMMER 2021.
SO MANY QUESTIONS:
WHAT IS THE PORT AFRAID OF?

WHAT IS IT TRYING TO HIDE?

WHY IS THE PORT NOW HIRING AN ENGINEER TO MANAGE INFRASTRUCTURE DELIVERY AND

GET CONTRACTS SIGNED FOR A T2 OPERATOR?
SO MANY QUESTIONS, NO ANSWERS FROM THE FEDERAL GOVERNMENT.
WE NEED YOUR HELP. NOW IS THE IDEAL TIME TO URGE THE FEDERAL GOVERNMENT TO REJECT ROBERTS BANK TERMINAL 2.
E-petition 2828 sponsored by Paul Manly MP for Nanaimo-Ladysmith called on the government to reject RBT2. It closed December 2 2020 with 1861 signatures.
https://petitions.ourcommons.ca/en/Petition/Details?Petition=e-2828
Those signing were all across Canada. Eight provinces and two territories all had signatories. It was certified and presented to the House of Commons on Dec. 9 2020. The govenrment responded January 26 2021, refusing to reject RBT2 at this time, saying the decsion will be based on science facts and evidence.
The govenrment already has the science, facts and evidence. Its own scientists say RBT2 will result in significant adverse environmental effects that cannot be mitigated. How much more does the government need to reject this project?
And so the saga continues, seven years and counting, wasting more taxpayer funds.
KEEP THE PRESSURE ON THE FEDERAL GOVENRMENT
TELL THEM YOU WILL NOT ACCEPT RBT2 BEING APPROVED
IF YOU MISSED SIGNING WE HAVE PUT UP ANOTHER PETITION.
Click Here to Sign the Petition
See what others are doing to stop RBT2:
1. Fraser Delta in the International spotlight. Birdlife Interantional has joined the fight to stop RBT2.
https://www.birdlife.org/worldwide/news/waterfowl-winter-refuge-fraser-river-delta-risks-being-lost-forever?utm_source=BirdLife+International+News+Notifications&utm_campaign=a1bb67f58b-Summary_news_notification&utm_medium=email&utm_term=0_4122f13b8a-a1bb67f58b-131704081&mc_cid=a1bb67f58b&mc_eid=0757e28fcf
2. A video by Ranincoast Conservation
https://youtu.be/HkKLY3P2_ys
3. Natural Legacies versus Waste
https://gardencitylands.wordpress.com/2020/04/04/fraser-voices-urges-federal-government-to-reject-roberts-bank-port-expansion/
4. Fraser Voices
https://www.facebook.com/FraserVoices/posts/2525873930958632?__cft__[0]=AZUdM4gLQGuLAuiIVb_6PxF5BNrdBoz4KiElrrlqVoUBShwuJp6UHSY5mWAGz0etwKLQsE10_Ss-qK7aGDQemFBPCb8nyQsjtbRBGMWEMaqncH-9Dc-WYdwptkuZASF4OsN487dcEmp0wBKuk9JfpC8C0GMYxI1uj79xp-tiD_FXKA&__tn__=%2CO%2CP-R
5. Georgia Strait Alliance
https://georgiastrait.org/work/species-at-risk/proposed-terminal-2-deltaport-expansion-2/
RBT2 Moves into its final phase - down to defeat
A final decision on the Vancouver Fraser Port Authority (VFPA) Roberts Bank Terminal 2 (RBT2) Project is very close. The Federal Government are asking for comments from the Public, prior to making a decision to approve with mitigation, or to deny approval.
LET US MAKE SURE THE DECISION IS TO DENY APPROVAL.
ONLY FOUR WEEKS LEFT – FEBRUARY 13 2022 IS THE DEADLINE
NOW IS THE TIME:
START WRITING TO THE ENVIRONMENT MINISTER
ec.ministre-minister.ec@canada.ca
GET YOUR COMMENTS OPPOSING RBT2 ON THE IMPACT ASSESSMENT AGENCY CANADA (IAAC) WEBSITE.
SEND YOUR COMMENTS OPPOSING RBT2 TO conditions@iaac-aeic.gc.ca
Here is a letter template for you to use. RBT2_Public_Letter_Jan_2022.docx

Copy and paste it into your email
Sign it with your name and address
Insert the date
Email it to conditions@iaac-aeic.gc.ca
Do not be fooled. The Port is using extensive PR campaigns to convince the public that their science is solid. On the surface it looks like a good story, but beware. Here are the facts:
1. The Port Authority's just released additional information does not alleviate the environmental concerns. It does not resolve the substantive issues raised by Environment and Climate Change Canada (ECCC) scientists.
2. Environment Canada scientists have proven RBT2 related changes will disrupt the salinity trigger that shocks marine type diatoms into high fatty acid production, thus negatively impacting the quality and quantity of biofilm available to migrating shorebirds.
3. No other sources of biofilm are available.
4. VFPA says biofilm habitat can be created but the scientists and peer-reviewed studies show biofilm cannot be created on a scale necessary to compensate for what will be lost.
5. RBT2 related changes are immediate, irreversible, continuous and cannot be mitigated.
6. The government drafted conditions for approval will allow RBT2 to proceed with no means to stop it when mitigation fails.
7. Nothing can then prevent wildlife population declines – perhaps towards species extinction - when biofilm quality and quantity is impacted.
8. Yet there is a faction in Ottawa that appears to want this project approved, regardless of the science.
The draft conditions as written are essentially meaningless. Basically VFPA is required to consult monitor mitigate follow up and report. There is no stopping or changing the project even if bird populations show declines, and/or ultimately go extinct.
Where is the action in the monitoring and follow up if mitigation measures don't work?
What happens if any of the "conditions imposed by Ottawa fail? Once the project is approved there is no way of stopping the project or the environmental degradation and wildlife declines
Nowhere in the conditions does it require work or the project to stop.
From a business standpoint the natural disasters this year - wildfires and floods - have proven beyond a doubt that this southern trade corridor is fragile and it is foolhardy to pump even more container traffic through an already congested corridor that even when infrastructure repairs are made will still be exposed to natural disasters and events that will cause further damage and close rail and road routes in and out of BC. There is a viable alternative - Prince Rupert. VFPA and some factions in Ottawa know expanding Prince Rupert is the better way to satisfy Canada's trading needs but they still refuse to recognize it.
Will RBT2 be approved?
Not if the Environment Minister and the federal cabinet are to retain any credibility when it comes to environmental and wildlife care and protection.

Why Did Ottawa Withhold its RBT2 Closing Submission?
Why Did Ottawa Withhold its Roberts Bank Terminal 2 Project Closing Submission?
Environment And Climate Change Canada did prepare a closing submission for the Roberts Bank Terminal 2 Project Environmental Assessment Panel. But at the last moment Ottawa decided not to submit it. Here is what happened.
In 2019 after the Roberts Bank Terminal 2 hearings were completed the Federally appointed Environmental Assessment Panel asked for closing submissions, before writing its final report and recommendations. The Panel specified they were looking for a summary of each participant's position regarding the project. They also made it clear no new information was to be included in that submission.
Many submissions were made and posted to the registry, but a significant one was missing. There was no closing submission from Environment and Climate Change Canada.
This was very strange, given that ECCC had major concerns with the RBT2 project. Where was ECCC?
It took an Access to Information (ATIP) request to the Federal Government to find out why. In fact ECCC scientists had prepared a response and submitted it to their bosses in Ottawa. It went through several iterations and was all ready to go but, immediately before the Panel deadline, an ADM Major Ports Steering Committee meeting on August 20 2019 decided to withhold Environment Canada's Closing Submission.
This left the Vancouver Fraser Port Authority's closing submission to go unchallenged. In their submission they took the opportunity to disparage and try to discredit the Environment Canada science in multiple places in their closing submission (#2045 August 26 2019 – e.g. pages 234 and on).
Through the ATIP process a copy of the final ECCC Closing Submission was finally obtained, much after the Panel had submitted its final report. It is attached in its entirety.
ECCC_Closing_Panel_Submission_RBT2.pdf
Here is an extract of the ECCC closing submission in relation to the RBT2 impacts on Shorebirds and Biofilm:
"Based on ECCC's review of the scientific literature, Project related changes to the salinity regime would impact the quality and quantity of biofilm available to shorebirds. These changes are likely to include:
The disruption of the salinity trigger responsible for shocking marine type diatoms into high fatty acid production;
Changes in community composition of diatoms in biofilm from marine to freshwater types that may produce lower amounts of fatty acids;
An unfavourable spatial shift in the centre of the distribution for biofilm towards sandier substrates where biofilm would be inaccessible for foraging Western Sandpipers due to tongue morphology; and
A reduction in the biomass of available biofilm, resulting in lower abundance of food for shorebirds during the critical northward migration period.
Based on ECCC's review of the current scientific literature, including the studies undertaken by the Proponent, ECCC remains concerned there are no practical mitigation measures available to address the large scale impacts of changes to biofilm on Roberts Bank."
Later in the same submission, and regarding VFPA's assertion that it is possible to recreate biofilm on a large scale, ECCC states:
" ECCC is of the view that it is not currently possible to recreate mudflats with similar sediment characteristics and biofilm fatty acid productivity as the Roberts Bank area"
Finally in the concluding statement of the ECCC closing remarks they state:
"ECCC continues to conclude that predicted Project-induced changes to Roberts Bank constitute an unmitigable species-level risk to Western Sandpipers and shorebirds more generally".
Not only does the ECCC submission demonstrate that VFPA's assertions on biofilm and shorebirds are false, it also destroys their assumption that there can ever be a workable adaptive management approach when the effects are deemed to be immediate, irreversible and unmitigatable.
By now publishing the withheld ECCC comments it sends a strong statement that the federal regulators must now take the ECCC position on RBT2 into full consideration.
By doing so the Federal government has no choice but to deny approval for Roberts Bank Terminal 2.

Port of Vancouver in Distress
November 30 2021
The Port of Vancouver is in distress because of huge baclogs and their inability to move goods in or out because of the flooding.


The Port of Vancouver had not moved any containers by rail, in or out, at any of its four terminals for more than eight days. Two fully loaded twelve thousand foot container trains had been sitting idle on the Deltaport rail lines in West Ladner BC, unable to move because both the CN and CP rail lines were damaged and blocked for more than eight days as a result of the BC floods. Other trains were sitting elsewhere. Containers continue to be backed up in storage yards all over Vancouver.
It is not just rail traffic that is impacted. Trucks carrying goods offloaded from containers had not been able to move out of the lower mainland either.
Nothing was moving. Road and rail routes have started to open up again, but still CN trains are not moving and CP is moving less than it did. This will take weeks, if not months to alleviate the backlog.
And the Port of Vancouver's ridiculous response? It plans to purchase land in Richmond to buy more land to store containers. Worse yet the federal government is funding part of that purchase.
The devastating fires this past summer in Lytton and now the flooding in the Fraser Valley and Southern BC have laid bare the absurdity of Vancouver Fraser Port Authority's (VFPA) plans to build a second container terminal on Roberts Bank and add another 2.5 million of container (Twenty foot equivalent –TEU) capacity in Vancouver.
This is testimony to the Vancouver Fraser Port Authority's myopic thinking that West Coast Canada container trade must be funnelled though the Port of Vancouver.
The Vancouver Fraser Port Authority is a crown agency. By opposing diversification of marine trading routes (in particular containers) across West Coast Canada ports, the Port Authority is derelict in its duty to protect Canada's economy and its international trade. By insisting that it is necessary to add another major container terminal - Roberts Bank Container Terminal 2 (RBT2) - to the four major container terminals it already has, it is clear the Port Authority's intent is to funnel even more container traffic through an already congested trade route.
It is absolutely absurd that the Government would consider green-lighting the RBT2 project that is just going to exacerbate the dependence on the single, FRAGILE, already congested, rail corridor through the Fraser Valley and into the Fraser Canyon. This decision will impact Canada for decades to come.
It
is time – well past time - to start paying more attention to the futility of building this hugely expensive container terminal. Why? Because there is another terminal expansion in Prince Rupert that can be built for less money, is privately funded (unlike the Vancouver Fraser Port Authority) and can provide all the container terminal expansion to meet Canada's trading needs for decades to come. Furthermore it does not have the significant adverse environmental effects that exist with the RBT2 project and it has a less congested, easier transit across the Canadian Rockies that is not fraught with the potential for rockslides, wash-outs as well as the steep grades that exist for the southern rail route through the Fraser Canyon and beyond. Interestingly some of the Port of Vancouver's backlog is now being moved on CN rail lines out of Prince Rupert because they have not been damaged.
The federal government will soon have to decide whether the immitigable, significant, adverse environmental effects resulting from building the RBT2 project, as identified by both the Federal Environmental Assessment Panel and by Environment and Climate Change Canada scientists, are justified in the circumstances. Clearly in 2021 they are not. The Port of Prince Rupert and DP World, its terminal operator, are ready to expand their container handling facilities by adding 5 million containers (TEUs) or more in a time frame that will meet Canada's trading needs for decades to come. RBT2 will never be needed.
A cabinet minister, Minister Carla Qualtrough, recently said about RBT2 (she is also MP for Delta):
"
I have followed this file very closely over the years and have been firm in my position that I am not convinced that the adverse and
cumulative environmental impacts of the RBT2 Project can be adequately mitigated. In the 2019 election we were awaiting the Environmental Assessment Panel's findings, which were published in March 2020. The findings were very concerning and reinforced my position
".
In June of this year the Governor in Council turned down
the
Laurentia Project: Port of Quebec Deep-Water Wharf – Beauport Sector, for a new container terminal. In doing so it stated:
"In accordance with paragraph 52(4)(b) of the Canadian Environmental Assessment Act, 2012, the Governor in Council decided that the significant adverse environmental effects that the Designated Project is likely to cause are not justified in the circumstances."
Project approval was denied.
In making the announcement, on behalf of the Federal Government,
Jean-Yves Duclos, President of the Treasury Board and Member of Parliament for Québec, stated:
"In the 21st century, economic development must take place in respect of the environment." After careful deliberation and review of the relevant information, the Governor In Council "determined the potential significant direct and cumulative adverse environmental effects of the Laurentia Project are not justified in the circumstances"
This Quebec project's adverse environmental effects are nothing like the magnitude of those that will result if RBT2 is built. The precedent has been set. Is this government prepared to disregard the environment concerns and risk breaking the chain of the Pacific Flyway, impacting the lives of millions of migratory and other shorebirds, already endangered Southern Resident Killer Whales and numerous other wildlife species?
Canadians are now looking to Ottawa to make the correct decision, as supported by the government's own scientists, free from the influence of stakeholders, and deny approval for Roberts Bank Terminal 2 in Delta BC. Instead Ottawa needs to support Prince Rupert, diversify container handling and get Canada's trading supply lines running again.

BC Flooding - The Risk and Absurdity of Approving Roberts Bank Terminal 2.
The devastating fires this past summer in Lytton and now the flooding in the Fraser Valley and Southern BC have laid bare the absurdity of Vancouver Fraser Port Authority's (VFPA) plans to build a second container terminal on Roberts Bank and add another 2.5 million of container (Twenty foot equivalent –TEU) capacity in Vancouver.
The loss of life, homes, and livelihoods from the most recent catastrophic flooding is a tragedy.
But there is another disaster that could and should have been expected. That is the damage to vital road and rail links that has resulted in total disruption of Canada's west coast trade routes. Every time a natural disaster like this occurs, it takes several weeks for roads and rail track to be repaired and for railroads to re-start operations. It takes even longer to clear the backlog and get normal operations resumed. The impact to Canada's economy of these road and rail outages is massive. This time around it is even worse. Port congestion was already causing supply chain disruption. BC access to the rest of Canada will be impeded for months. Damage to Highway 5 – a major trade corridor - is extensive and it will be a long time before it is re-opened. The southern rail route through the Fraser Canyon and over the Rockies, used by the Port of Vancouver, was already heavily constrained prior to this latest disaster.
In spite of this constant threat to the Canadian economy, VFPA plans to focus even more of Canada's trade through the Port of Vancouver, rather than diversifying and balancing container capacity in Prince Rupert. What good is another 2.5 million of container capacity in Vancouver if the railway linkage to Eastern Canada and the United States (where most of the containers will go) is repeatedly disrupted?
The federal government was warned 10 or more years ago, when it commissioned an expert panel to study port expansion. Diversify our trade corridors; don't funnel everything through the Port of Vancouver, is what the experts recommended. Maximize the Port of Prince Rupert, they recommended, before adding further port infrastructure in Vancouver. But the federal government ignored it and let the VFPA - a crown agency - continue to expand, subsidizing them in the process. Now we are paying the price. It is time to stop this.
There is a proposal for a new container terminal in Prince Rupert that would more equally balance container-handling capacity between Vancouver and Prince Rupert. If there is a disruption on the rail lines leading into Vancouver, ships could be diverted to Prince Rupert. But if all of the new container capacity is built in Vancouver, ships will just have to wait at anchorage until the railway blockage is repaired (and longer until the backlog is cleared).
If, or more likely now when, there is another disruption on rail lines in and out of BC there will be two major ports each capable of handling large volumes of container traffic if one is compromised.
Will the Canadian government finally wake up to this risk and tell the VFPA the next phase of container capacity must be built in Prince Rupert, in order to mitigate this risk that occurs when roads snd railway lines leading into Vancouver are disrupte
The federal government must tell the Port of Vancouver - no more port expansion; Roberts Bank Terminal 2 will not be built.
For more information visit www.againstportexpansion.org
or email Roger Emsley at info@againstportexpansion.org